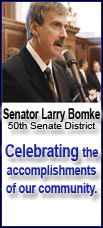 The CCC Christmas Concert has been rescheduled to Thursday, January 15, 6:30 at Jefferson Street Christian Church. It had been canceled due to bad weather. We would like to invite the public to share this joyous evening of song! If you have any questions, please contact Coleen Moore, Director, at 217-732-5750.
---

Park district offers writing course. Are you looking for something to do this winter? Join Mike Fak, local writer and managing editor for the Lincoln Daily News.com, to learn the skills necessary to become a creative writer. The focus will be on learning the methods for writing short stories and memoirs. Participate with Mike in a fun-filled class to find that inner author that is inside all of us. Mike has personally authored four books and has helped thirteen other individuals get their books to market. In the last year, over 500,000 readers have read Mike's short stories and columns on the World Wide Web besides his contributions for LDN.
Learn tips on writing for pay, for personal enjoyment or for leaving a legacy of your words for following generations. The class is open to anyone between the ages of 16 to 100. Classes will begin Tuesday, January 20 at 7:00 p.m. in the Craft Room. There is a slight fee associated with this program. Although a home computer helps, it is not absolutely essential for this class. All members will also receive a free copy of Mike's last book, "Portions of a Life," and will help him rewrite several of his stories in the learning process. There will be small assignments each week, but it must be stressed that this will be a fun course all the while helping you to become a better writer. Be forewarned that all members of the class will often be subjected to Mike's stand-up comedy routines. For more information, you can call the park district at 732-8770.
---

Tree of Hope to be auctioned. The live, balled white pine tree that was donated by Jeff Cooper of Angel Valley Tree Farm to the Humane Society of Logan County for the 2008 Tree of Hope is available for purchase. The white pine tree will be sold to the highest bidder by silent auction. Moving and planting of the tree will be provided by Kevin Rath of RMK Landscaping and Lawn Grooming. Minimum bid accepted for the live tree is $150. Bids should be in $25 increments. To make a bid on the 2008 Tree of Hope white pine, call 737-4042, 947-2326 or place a bid in writing at Ace Hardware, sponsor site for the Tree of Hope. For more information, please call 947-2326. Bidding ends January 31, 2009.
---

Lincoln Jaycees announce 2009 Officer Installation. The Lincoln Jaycees announce the installation of their 2009 Board of Directors. The following officers were installed at the most recent board meeting: Perry Payne – 56th Lincoln Jaycees President, Ronnie Clemence - Internal Vice President, Angie Petro - External Vice President, Mike Rutledge - State Director, Kathy Payne – Secretary/Treasurer, & Chris Harbour – Chairman of the Board.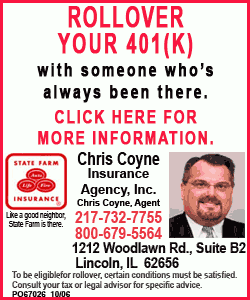 The Lincoln Jaycees are a not-for-profit organization that services Lincoln and the surrounding communities. The Lincoln Jaycees give young people between the ages of 18 and 40 the tools they need to build the bridges of success for themselves in the areas of business development, management skills, individual training, community service, and international connections.
The Lincoln Jaycees host various community activities such as the Easter Egg Hunt, Breakfast with Santa, & Angel Tree. We have a variety of management and fundraising projects such as Lincoln Art & Balloon Festival Vendor, Haunted House, and Lincoln Speedway 50/50.
Membership meetings are the 3rd Thursday of every month, 7pm at Abraham Lincoln Memorial Hospital. Meetings are open to the public.
---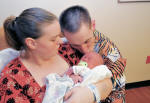 Abraham Lincoln Memorial Hospital welcomed its first baby of 2009 on Tuesday, January 6 at 7:37 a.m.
(Click on picture for larger image.)
Austyn Wayne Huskins is the son of Heidi and Mathew Huskins of Lincoln. Austyn is the firstborn child for the couple, and his middle name is a family name of both his dad and paternal grandfather.
He weighed 7 pounds, 8 ounces at birth and is 19 1/2 inches long. While he doesn't have siblings, Austyn will be welcomed by many cousins.
ALMH presented Austyn and his family with a basket of baby care items and clothes.
ALMH's Family Maternity Suites is a state-of-the-art obstetrical center that features private labor-delivery-recovery rooms with private restrooms and showers, as well as a dedicated operating suite for cesareans. Each mom and baby receives individualized care. To see photos of the Family Maternity Suites or to learn more about the other healthcare services offered at ALMH, visit www.almh.org.
Got a good piece of news, information or something that we can all brag about? If you do, e-mail Mike and let us tell everyone about it. Plus you can win cash. Every submission, whether we use it or not, will get your name in the "Close Up" grab bag. At the end of the month we will draw a name and someone will get $25.00 just for dropping us an e-mail. If you wish, we will be happy to donate your winnings to the organization of your choice.
You can contact Mike at mikefak@lincolndailynews.com.
[By MIKE FAK]