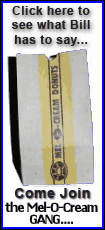 Earlier this year the agency proposed not setting a drinking water standard for perchlorate. The chemical has been detected at almost 400 sites in 35 states at levels high enough to interfere with thyroid function and pose developmental problems in humans.
The agency on Thursday said it would not make a final decision until the National Academy of Sciences studies the matter.
The EPA's own advisers and an inspector general report faulted EPA for how it evaluated the risk the chemical poses to human health.
Perchlorate occurs naturally, but most contamination stems from defense and aerospace activities.