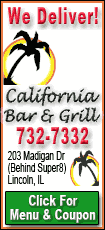 The U.S. Geological Survey measured a 4.5-magnitude quake at 7:49 p.m. just south of San Bernardino, about 55 miles east of Los Angeles. The USGS initially reported the quake at 4.9-magnitude, then 5.0.
"It was a little roll and big jolt, then a sonic boom kind of noise," said San Bernardino County Fire Supervisor Tim Franke.
While no damage was reported, it shook up people across the region. Citizen reports to the USGS showed the quake was felt as far south as San Diego and as far north as the Palmdale area.
"Nothing fell here except a few oil cans," said Socorro Ruiz, an employee at an AMPM convenience store in San Bernardino. "We were a little scared, with the ground going up and down underneath us. It sounded like something noisy was going on in the basement."
The quake disturbed dinner for about 120 people at the nearby Castaway Restaurant, said manager Ignacio Coyt. He said he felt a "very quick jolt." No one panicked but he said one couple left to check out any damage.
"It felt like something dropped from the roof," Coyt said.
To the south in Orange County, a librarian at the Yorba Linda Public Library said she felt shaking but was thankful she didn't have much to clean up.
"We didn't even have any books fall," Julie Zeoli said. "We only felt it for about a second."
The quake struck 10 miles deep near the San Jacinto fault, which is part of the San Andreas Fault system, said seismologist Lucy Jones of the U.S. Geological Survey. At least half a dozen smaller aftershocks followed including a magnitude-3.3 that rattled the region an hour later.