Park district notes
From Roy Logan, program coordinator

Send a link to a friend
[January 10, 2009] Are you looking for something to do? Join Mike Fak, local writer and managing editor for the Lincoln Daily News.com, to learn the skills necessary to become a creative writer. The focus will be on learning the methods for writing short stories and memoirs. Participate with Mike in a fun-filled class to find that inner author that is inside all of us. Mike has personally authored four books and has helped 13 other individuals get their books to market. In the last year, over 500,000 readers have read Mike's short stories and columns on the World Wide Web, besides his contributions for LDN.
Learn tips on writing for pay, for personal enjoyment or for leaving a legacy of your words for following generations. The class is open to anyone ages 16 to 100. Classes will begin Jan. 20 at 7 p.m. in the Craft Room at the Rec Center. There is a slight fee associated with this program. Although a home computer helps, it is not absolutely essential for this class. All members will also receive a free copy of Mike's most recent book, "Portions of a Life," and will help him rewrite several of his stories in the learning process. There will be small assignments each week, but it must be stressed that this will be a fun course, all the while helping you to become a better writer. Be forewarned that all members of the class will often be subjected to Mike's stand-up comedy routines.

We have a great event that our aerobics and spin department will be offering. On Jan. 31, 11 a.m.-1 p.m., everyone is invited to come and meet the instructors and try out any of our classes for free. This interactive open house will allow you to take a 15-minute class just to see what it is about. All of our instructors will be present to meet you and answer questions. Wear your workout clothes and grab a bottle of water. We'll want to say hello and get you involved in a fitness class of your choice!

Have you made a New Year's resolution to exercise more and you aren't quite making the goal? This may be the nudge you need to take you from couch potato to committed. Any new member who joins between Jan. 15 and 31 is eligible to receive some time added to their membership. If you join for three months (12 weeks), we will give you an additional week free. If you join for a year, we will give you an additional month free. We are so excited about this offer we'll even extend any of our current members, regardless of when their memberships expire. Remember, life begins with fitness.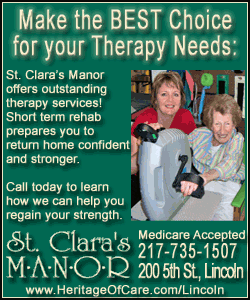 Calling all senior citizens: You are invited to join our indoor walking program anytime. It is free for our members, and nonmembers may walk for just $1 per day. The first and third Wednesdays of each month we welcome Marcia Cook, community nurse liaison with Christian Village. She will check blood pressures from 7:30 to 9 a.m. When you are done exercising, we'll pour you a cup of coffee to enjoy while we visit.
[Text from file received from Roy Logan, Lincoln Park District]