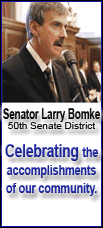 The visiting president of the U.S. Chamber of Commerce appealed to Beijing to resist pressure to respond to the downturn by trying to block imports.
The slump in global sales has forced thousands of Chinese factories to close. Communist leaders worry about unrest as laid-off migrants stream back to their hometowns from coastal manufacturing regions without jobs or money. Labor protests have occurred in some areas. The government is pressing companies to avoid more job cuts.
"Starting in October, our orders dropped sharply. We basically stopped production after October," said Sun Bin, general manager of Huang Gang Hengsheng Clothing Import & Export Co. in the central province of Hubei. The company sells clothing to the United States, Europe and the Middle East.
"We don't dare to produce, because the more clothes we make, the more we will lose," Sun said.
December's export decline was the sharpest since April 1999, according to JP Morgan & Co
.
"Export growth is likely to be flat in 2009, with negative year-over-year growth in the near-term," said Jing Ulrich, JP Morgan's chairwoman of China equities, in a report.
Beijing has cut taxes for exporters and taken other steps to help struggling manufacturers. The government is trying to reduce reliance on exports with a 4 trillion yuan ($586 billion) stimulus package announced in November that is aimed at by boosting domestic consumption. Premier Wen Jiabao, the top economic official, has promised additional steps to create new jobs.
Adding to exporters' misery, China's yuan has risen over the past year against the U.S. dollar. That has squeezed companies that receive dollars for their goods but pay wages, rent and other expenses in yuan.
The president of the Washington-based U.S. Chamber of Commerce, speaking before members of the American Chamber of Commerce in China, appealed to Chinese leaders to resist pressure to hamper trade.
"We're bringing a message here to this government: be patient, continue to work very hard to avoid protectionism at home as we are doing in an environment where, as economies get tough and unemployment goes up, people are very inclined to figure out how to close the door," said Thomas Donohue.
"We are going to have a big-time fight against isolationists, protectionists and people who think that they solve their problems by closing their door to the rest of the world," he said.
The decline in China's imports also accelerated in December, with purchases of foreign goods falling 21.3 percent, according to the customs agency. That was a bigger than November's 17.9 percent decline and reflected China's domestic economic slowdown.