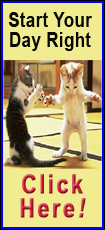 Steinberg said that moving the location was just good business. The new location is a larger building, in better condition, with a lot of area for showroom and shop, plus it offers a much better parking situation.
At the moment, there is a lot of work going on inside. Steinberg's dad, Todd, is working on some plumbing issues, and a part-time employee, Jeff, is dealing with moving air and acetylene lines in the shop and installing thermostats for heating and cooling.
The front entryway smells of fresh paint, and all around there are piles of parts and various inventory that are being moved from the Hamilton Street location to the new building. While they are open for business now, Steinberg's goal is to have everything in tiptop condition for a grand opening in the earlier part of spring, right before lawn mowing season begins.
At 23 years of age, Steinberg has had a vision of owning this particular business for several years now, but it didn't all come together until about six months ago, when Knauer finally agreed to sell.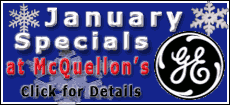 Steinberg says he worked for Knauer while in high school. Later he worked as a mechanic-technician for Caterpillar.
Steinberg has a love for working on motors. "Anything with a motor, I'm gonna work on it," he says. He proudly points out one of his four tool chests, which stands about 4 feet tall and is at least 5 feet long, with several drawers full of tools. Later, he shows off a portion of his vintage John Deere lawn mower collection.
Another prized possession is his end loader, which he says is just a part of what he uses for building demolition, another line of work he is in. He says that right now he has three jobs as a result of the high winds that swept through Logan County two days after Christmas.
Steinberg says that at Lincoln Power Equipment, he plans to offer a line of new and used lawn mowers, snowblowers, chain saws and various other motor-powered items, including generators, for sale. He says that at the moment, he doesn't have a complete list of what name brands he will offer; many of those details are still in the works. Toro is a certainty, and he's also working to get a Troy-Bilt franchise, among others.
Additionally, he will have a complete parts department for the do-it-yourselfer. Steinberg says they will have many parts in stock but will also be able to order parts for any name brand on the market and have it in-house for the customer in just a few days.
In the shop area, there are plans to work on a wide variety of items. He says that they will have the capacity to work on all the lawn mowers and snowblowers they sell, plus they plan to offer service on any name-brand mower, snowblower, motorcycle, four-wheeler and even larger farm tractors. Steinberg adds that right now he is building another shop, at his home, that will be large enough to handle the really big stuff.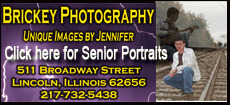 Lincoln Power Equipment will also be a business on the Web, offering parts and equipment for sale via the Internet. In addition to the retail sales, parts and repair, the business will offer seasonal equipment rental and a snow removal service in the winter.
Steinberg explained that as they have been moving from the Hamilton to Tremont location, they are digging out inventory that Knauer has had on hand for years. He says that finding stuff stuck in the back room has been quite a treat for him. He points to a vast array of small boxes filled with lawn mower parts, currently spread out neatly in the parts department area, and says that many of the items there are no longer available from the manufacturers. He explains that folks with older models of lawn mowers, or people who collect and restore mowers, like he does, will be interested in these parts for their own projects.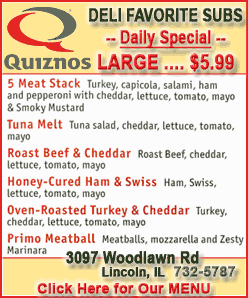 In the area that will be designated as showroom, Steinberg points to another back-room find that he is quite proud of: a large Stihl chain saw display that he says is at least 30 to 40 years old and quite rare.
Shane says that his parents have had a great deal of influence on his life, encouraging him to work hard, have vision and ambition, along with offering themselves as examples of what can be accomplished with hard work and determination.
His folks started their married life in Minnesota, with his dad working as an employee on a dairy farm. Shane says when he was about 2 years old, his family moved into this area, and his dad has worked his way up to being a manager of a grain elevator in Farmer City. His mother has also made her way up the ladder of success and is now the president of MTI.
Financially, Shane has done all this on his own. He said that he has a working agreement with the owner of the building and will eventually own it outright. He's gained financing through the State Bank of Lincoln, and he acquired a small-business loan through the Small Business Administration.
Family will play a big part in helping him run the business. He says that his granddad Dan Meyer will be there most of the time. Shane's younger brother, Aaron, will also work there while he's studying law enforcement at Western. Rachel Huffman, Shane's girlfriend, is currently in college, but in Shane's words will be doing just about anything and everything that needs to be done in the business.
And, they won't be without their mascots at Lincoln Power Equipment. Shane's springer spaniel, Lilly, and Rachel's poodle will be in and out of the store on a regular basis.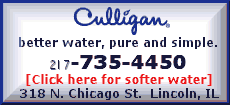 Steinberg says that in spite of the reports of recession, and a poor economy, he feels it is a very good time to be starting a new venture. He explains that he has been careful to make sure he is diversified, saying that if he wants to keep the business going year-round, he has to change the focus of the business with the seasons.
Steinberg also thinks that his offering of full service on motor-powered equipment will be a draw that will give him an advantage over big-box stores, where the buyers are pretty well left to their own devices once they get their purchase home. He plans to have people on hand all the time who are knowledgeable about the products they sell and can answer questions on maintenance and repairs.
Steinberg adds that while he intends to do a lot of the work himself, he is planning to add one more employee immediately and will consider adding others as he grows the business.
[By NILA SMITH]