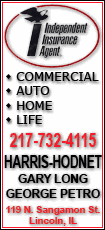 Wind chill readings of 25 to 35 below zero will be found across much of central Illinois through Friday morning. Some areas will see wind chills as low as 40 below zero this morning, primarily from Galesburg east and southeast toward Pontiac and Bloomington.

Although winds will diminish some tonight, the bitter cold air temperatures will keep wind chills extremely cold.

A wind chill warning means the combination of very cold air and strong winds will create dangerously low wind chill values. This will result in frostbite and lead to hypothermia or death if precautions are not taken.