For information on Lincoln Area YMCA programs and events, contact the downtown office, 604 Broadway St., Suite 1; visit www.lincolnymca.org; or call 735-3915. The YMCA Activity Center is at 719 Wyatt Ave.
YMCA notes

Send a link to a friend
[January 17, 2009] The new YMCA website has been getting tons of positive feedback. The cool design and easy-to-use menus have been attracting more and more of the community back to the Internet to see what the Y has to offer. If you need a new site, David Doolin at www.Infinity-x.net can help! But hurry, he has been giving free consultations and his calendar is getting full. Get more information at www.lincolnymca.org.
Have you filled out your YMCA 2009 membership form? YMCA membership runs from Jan. 1 through Dec. 31 each year. The fee is $33 per family and is a once-a-year expense. Information received is used to mail out program and special event information, including the seasonal program guide, to the YMCA families. Forms can be filled out at the Y office or downloaded off the all-new www.lincolnymca.org.

Do you have a future Railer at your house? YMCA Biddy Ball is just what you need to start your future star on the road to athletics and sportsmanship. Registrations will be accepted through Jan. 23 for your 4-year-old or kindergartener for this great learning experience. Participants from the November 2008 program will receive a $5 discount off their February registration fee. After Jan. 23 there will be a $10 fee increase. This program is designed to teach children the basics of basketball in a fun, exciting way. Teams practice once a week, with games taking place on Saturday mornings. Donít let your child miss out on this great learning experience!

Y Fitness Crew is back in full swing and the classes are filling up quick! One week in and we have almost reached full capacity. Donít be left out in the cold; join today! Call 217-735-3915 or visit the NEW www.lincolnymca.org for more information.

The rush. Pinching. Sacrifice fly. Find out what these mean by joining YMCA Dodgeball. Thatís right, dodgeball is back for any third- to sixth-graders who would like to have some ball-throwing fun. Participants will meet on Saturday afternoons from noon to 1 p.m., starting Feb. 14. Registrations will be accepted through Feb. 9, with a $10 fee increase for any registrations received after that.

YMCA Home School P.E. will start back up on Feb. 5. Each Thursday from 2:15 until 3 p.m., participants will do warm-ups, relays, and play fun and exciting gym games. This program is for all home-schooled children age 5 and up. If there is enough interest, the program will be divided into two age groups. The Y provides families with multiple children a discount on additional participants. Register today for this great home-school program.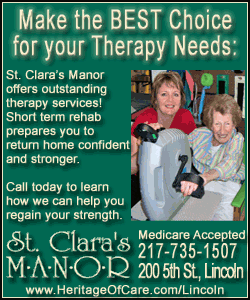 Registrations for the Feb. 12 (C-EL only) and Feb. 16th (District 27 only) YMCA Schoolís Out Fun Days are currently being accepted at the YMCA office. These programs run from 6:30 a.m. to 6 p.m. for children in kindergarten through sixth grade and include fun activities such as recreational play and games, table activities, story time, character development lessons, art and craft fun, and more. Registration deadlines apply, and more details are available at the Y office.
YMCA Before and After School programs are available for children in kindergarten to sixth grade at the District 27 elementary schools, Chester-East Lincoln School and Olympia South Elementary School. Programs offer daily snack, homework assistance, recreational games and play, table activities, art fun, reading component, and much more. Limited space is available and registrations are accepted at the Y office. Visit www.lincolnymca.org or the Y office for program rates and more details.
[Text from file received from Lincoln Area YMCA]