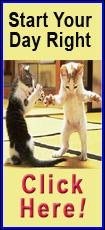 First State Bank's "They Also Ran" gallery, a tribute to losing presidential candidates, added the Republican candidate's image Tuesday to a row of black-and-white drawings and photographs that starts with Thomas Jefferson, who lost to John Adams in 1796.
Curator Lee Ann Shearer -- who is also the bookkeeper at the Norton bank -- said about 30 people showed up, sipping punch and sampling cookies she helped bake. A few stuck around to watch Obama become the nation's 44th president on a TV set up in the gallery.
"I got goose bumps. I'm kind of sentimental about my country. It's history in the making," Shearer said.
The gallery now has 59 not-quite-presidential images, although 14 of the honorees did hold the office at some point.
A third-party candidate has not been enshrined since John Anderson in 1980 because of space constraints, which are now at their limit. With the addition of McCain, all the gallery's three walls are filled.
"We got four years to think about it, but the bank likes it here," Shearer said.
The gallery was started in 1965 by William Walter Rouse, bank president at the time, after he read Irving Stone's book "They Also Ran," about presidential campaign losers. Rouse decided that, despite their political shortcomings, the losers deserved a shrine.
The gallery had been getting the photographs from the Library of Congress, but that has proven expensive -- about $100 each. Four years ago, the gallery received Kerry's photograph from his campaign. This year, the McCain photograph was found on the Internet because pictures given by the campaign were too dark, Shearer said.
Norton, a town of about 3,000, is off the beaten tourist path, about 60 miles north of Interstate 70, which bisects the state. Shearer said the gallery, which is open during bank hours and free, gets about 100 visitors a year.
"It's better than it was a year ago and it picks up during the summer. We're listed in travel guides and that helps," she said.
___
On the Net:
First State Bank: http://www.firstatebank.com/