With inauguration over, state and country turn toward Lincoln Bicentennial

Send a link to a friend
[January 21, 2009] SPRINGFIELD -- Abraham Lincoln's 200th birthday is Feb. 12, 2009, and the Illinois Abraham Lincoln Bicentennial Commission encourages citizens of all ages to send birthday greetings, handmade if possible, to Mr. Lincoln's official mailing address as recognized by the United States Postal Service:
Abraham Lincoln
c/o Old State Capitol
1 Old State Capitol Plaza
Springfield, IL 62701
"Whether they are made with crayon and construction paper or lace and ribbons, we hope the cards from all over the world pour into Mr. Lincoln's hometown in the weeks leading up to his birthday," said Marilyn Kushak, chairwoman of the Illinois Abraham Lincoln Bicentennial Commission.
Select cards received at the Old State Capitol address may be used for physical or online displays, or for publicity purposes.
The bicentennial commission has planned numerous activities to celebrate Lincoln's 200th birthday. A complete list is available at www.lincoln200.net.
These activities and other planned events include:
INTERNATIONAL HONORS -- The Lincoln Academy of Illinois will present the state's highest honor, The Order of Lincoln medal, to 30 people from around the world who have in lasting and significant ways enhanced and perpetuated the memory of Abraham Lincoln. The ceremony will be on Feb. 7 at the Abraham Lincoln Presidential Museum in Springfield.

STAMPS -- The U.S. Postal Service will formally issue four Lincoln Bicentennial postage stamps on Feb. 9 at the Old State Capitol in Springfield. Then, on Feb. 12, there will be a special Lincoln's Birthday postage cancellation at the Old State Capitol.
FAREWELL -- A dramatic presentation of Lincoln's February 1861 Farewell Address, made when he left Springfield as president-elect, will be staged Feb. 11 at Springfield's Prairie Capital Convention Center.

MUSIC -- The Illinois Symphony Orchestra will feature a Lincoln theme in a special performance in Springfield on Feb. 11 for the entire family.

LET'S READ TOGETHER -- The world is invited to read the words of Lincoln's Gettysburg Address together at 9:30 a.m. Central time on Feb. 12 in an activity originating from the Lincoln Presidential Museum.
Bells around the state will ring at noon that day in honor of Lincoln's birthday.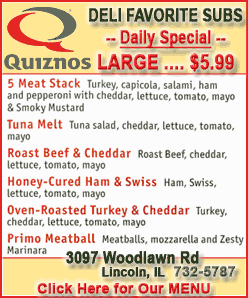 PAYING RESPECTS -- A wreath-laying ceremony in the morning and a flag retreat ceremony in the afternoon on Feb. 12 at the Lincoln Tomb in Springfield will allow visitors to pay their respects to our 16th president.

VISIT WITH THE LINCOLNS -- Join an afternoon with Mr. and Mrs. Lincoln in Crystal Lake on Feb. 1.
Welcome Mr. Lincoln in a program for the entire family in Niles on Feb. 16.

ART -- The "Holding Hands With History" exhibit celebrating the Lincoln Bicentennial opens at the Pritzker Military Library in Chicago on Feb. 5.
"Abraham Lincoln in American Art" opens in Jacksonville on Jan. 26.
"The Camera and Mr. Lincoln" opens in Urbana on Feb. 21.

NEW CITIZENS -- New U.S. citizens will be sworn in during a special Lincoln's Birthday naturalization ceremony on Feb. 12 at the Old State Capitol.

BIRTHDAY PARTIES -- Two birthday parties are scheduled the evening of Feb. 12. The Civil War Period Ball at the Lincoln Presidential Museum is free and open to the public. The 101st annual Abraham Lincoln Association banquet in Springfield is a ticketed event. Both will feature the cutting of special Lincoln birthday cakes.
The Illinois Abraham Lincoln Bicentennial Commission has been working closely with numerous organizations, tourism agencies and institutions in 2008 and 2009 to organize events and programming for the 200th anniversary of Abraham Lincoln's birth. The commission is also partnering with local communities on their bicentennial plans.
[Text from file received from the Illinois Office of Communication and Information]