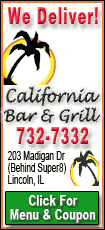 In the North, high pressure will bring winds from the northwest to the Great Lakes, kicking up scattered lake-effect snow showers. Less than an inch of total snow accumulation was expected in New York, Ohio and Michigan.
In the Plains, the backside of the high pressure system will bring winds from the south, allowing for warmer temperatures and clear skies. Expect the northern Plains to reach into the upper 30s, while the southern Plains will reach into the upper 60s and lower 70s.
In the West, high pressure will start to move eastward as a low pressure system approaches from the Pacific Ocean. This system will put an end to warm weather by pushing clouds over California and triggering scattered showers starting Wednesday night.
Temperatures in the Lower 48 states on Tuesday ranged from a low of minus 23 degrees at Grayling, Mich., to a high of 89 degrees at Bullhead City, Ariz.