Humane Society holds annual meeting; new board elected, accomplishments cited
Members look to even better 2009
Send a link to a friend
[January 23, 2009] The Humane Society of Logan County had its annual meeting Wednesday night at Chad's Blind in Lincoln. New officers were elected, and several key points of accomplishment were brought up during the session.
Among the most notable accomplishments were:
A successful spay and neuter program in conjunction with the Animal Protective League in Springfield has resulted in 141 cats and 90 dogs spayed or neutered in 2008. A partnership with Lincoln Animal Hospital for spaying and neutering services has also been implemented, with Dr. Gillen taking the overflow of animals that go through the Animal Protective League. Statistics show that in 2008, this program prevented 2,115 kittens from being born in an already overpopulated county and has saved 1,440 puppies from being born to die prematurely and without a family's love.

An aggressive adoption program with written policies and procedures has resulted in 28 adoptions: 14 cats and 14 dogs.

Fourteen foster homes in Logan County are licensed with the state of Illinois and under the direction of the Humane Society of Logan County chairman of animal affairs.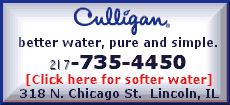 The society has instituted the transporting of animals since mid-October 2008 from kill shelters to pre-screened rescuers and adoption agencies, which has resulted in saving 57 animals.

The society will also begin work to move into its new office location at 113 Sangamon, thanks to the generosity of the owner, Susie Fuhrer, to allow the society to use the space, only paying for utilities. This will help bring a physical presence to the organization in the community.
It was pointed out that the 108-member organization is all volunteers. All planning, documentation, organizing and running of events is by volunteers. In 2008, almost 8,500 hours of volunteer support were logged by the membership.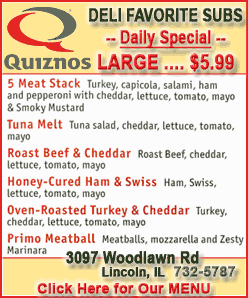 The Humane Society of Logan County is committed to the prevention of cruelty, abuse and neglect of animals through its adoption program, cruelty investigations, spay and neuter assistance program, and humane awareness and education. Anyone interested in joining can call 217-737-4042 or visit www.hslclincoln.org.
The following is the 2009 board for the Humane Society of Logan County:
Larry Pech, president

Ellen Burbage, president-elect public relations committee chair

Barb Nikles, treasurer

Wanda Stevens, adoption and foster homes counselor chair, membership committee

Jill Struebing, animal affairs committee

Marsha Brown, fundraising committee chair

Sue Jones, administrative and finance committee chair

Lyle Johnson, adviser

Dr. Lara Borgenson, adviser
[Text from file received from the Humane Society of Logan County; LDN staff]