---

Whether you attended the successful Junior Achievement/Chamber Eggs & Education event back on November 4th or not, please join others from our community at the Chamber office for a Junior Achievement (JA) training session. You have 2 dates from which to choose, and in just 45 minutes, you'll be confident and ready to lead a JA class in Lincoln this spring!
January 28th at 4:15 PM or February 20th at 12:00 PM are your choices. Enjoy pizza at either event! Simply RSVP to the Chamber, and please let your coworkers know as well! The session is no-obligation, and there is no financial ask, so just come ready to see if the JA experience will work for you. We have limited space so first come, first serve with the RSVP!
---

Shelden Tibbs, a senior at LCHS signed his letter of intent to play baseball at Lincoln Land Community College on Tues, Jan 20, 2009. Shelden is an alumnus of Carroll Catholic School and lives in rural Middletown.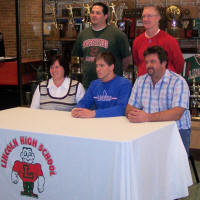 Shelden's parents, Vanessa and Scott Tibbs, flank Shelden. Coach Pat Hake (LCHS Baseball Coach on left) and Ron Riggle (LLCC Head Baseball Coach). (click picture for larger image)
---

The Olympia FFA Alumni Chapter will be holding an auction and banquet on January 30, 2009 at the Olympia High School Cafeteria, Stanford, Illinois.
The festivities, starting at approximately 5:00 pm, will begin with a social time followed by a mouthwatering BBQ pork chop dinner with all the trimmings. The meal will be prepared by the dedicated FFA Alumni Chapter members with assistance from the Olympia High School FFA Chapter. A silent auction will be taking place in conjunction with the meal, and they have a large variety of items to be auctioned, from seed corn and bean certificates to hats, tools, toy tractors, sports memorabilia and gift cards from central Illinois eateries and shops.
The festivities will take place in conjunction with boy's sophomore and varsity basketball games vs. Cornbelt Conference rival Mahomet Seymour High School. The meal will cost a small fee, and the silent auction will tentatively conclude during halftime of the varsity game. The proceeds of the evening will go to help fund the FFA Alumni Chapter and the FFA chapters at Olympia High School. For more information you can call (309) 379-5911.
---

The Logan County Railsplitting Association is pleased to announce that an old tradition will be rekindled on Saturday, January 31st. The association will be bringing representatives to the LCHS basketball game to hold a railsplitting demonstration between the sophomore and varsity games (between 6:45 and 7:15 PM). Railsplitting Association members John Sutton & Heidi Rankin will be on hand to split the rails and they are looking forward to bringing new interest in the Abraham Lincoln National Railsplitting Festival, held in Lincoln.
The tradition of splitting rails at basketball games fell by the wayside years ago, but now, with the festival gaining momentum again, and the Abraham Lincoln Bicentennial approaching, the goal is to increase awareness of Lincoln the Railsplitter. The festival, now in its 39th year, gives attendees a chance to look at life in Abraham Lincoln's time, as well as a chance to compete in events such as Railsplitting, Corn Shelling, Firewood Splitting, Cross Cut Sawing, and Tomahawk Throwing. Also at the festival, there will be numerous craft vendors, selling handmade items to the public.
The 39th Annual Abraham Lincoln Railsplitting Festival will be held on September 18–20, 2009 at the Logan County Fairgrounds in Lincoln, Illinois. The Logan Railsplitting Association will also be working on several Bicentennial activities throughout the year. For more information about the festival and the association, please visit www.railsplitting.com or call 217-732-8687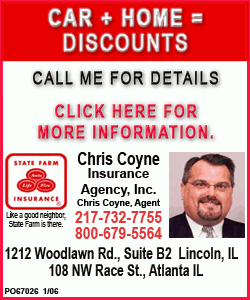 Heartland Community College seeks applicants for 12 positions on its Alumni Association Board of Directors. The Heartland Community College Alumni Association (HCCAA) board will meet monthly to help steer the college's Alumni Relations and Community Outreach Department, develop opportunities for Heartland alumni to establish and maintain meaningful and valuable connections with each other and strengthen the relationships between campus and community leaders.
Colleen Reynolds, associate director of Heartland's Alumni Relations and Community Outreach department, believes the creation of an alumni association board of directors will provide leadership and insight for the association as the college continues to grow and meet the demands of a changing population.
"We're confident that there are leaders in the community who have benefitted from Heartland who are willing to give back to the college that helped place them on their paths to success," Reynolds said. "We have a very successful alumni base in the area which comprises a large part of the economic engine of McLean and surrounding counties -- including doctors, business owners, directors of non-profit agencies and others who contribute to this community every day who I hope are willing to step up and help us begin a new chapter in Heartland's history."
To qualify for a seat on the HCCAA's inaugural board of directors, applicants must have completed at least one class -- credit or non-credit -- at Heartland and be willing to meet one night a month and attend alumni events. Directors also will help build the association, celebrate and promote Heartland's impact on students and on the community, direct social activities, offer input about alumni services and benefits, and have an overall role in promoting the institution that in some way helped to build a foundation for their own success.
For more information or to apply, please visit www.heartland.edu/alumni and click on the Alumni Board tab. Additional information also is available by calling Reynolds at
(309) 268-8188, or emailing colleen.reynolds@heartland.edu.
---
Got a good piece of news, information or something that we can all brag about? If you do, e-mail Mike and let us tell everyone about it. Plus you can win cash. Every submission, whether we use it or not, will get your name in the "Close Up" grab bag. At the end of the month we will draw a name and someone will get $25.00 just for dropping us an e-mail. If you wish, we will be happy to donate your winnings to the organization of your choice. You can contact Mike at mikefak@lincolndailynews.com.
[By MIKE FAK]