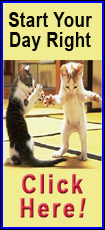 Kokinis, who began his NFL career as an intern in the Browns' operations department in 1991, was hand-picked by Mangini, who recommended him during his first interview with Browns owner Randy Lerner on Dec. 30. Mangini took over as Cleveland's coach on Jan. 7, just one week after he was fired following three seasons with the New York Jets.
Determined to match a coach and GM who can work well together after the Romeo Crennel-Phil Savage relationship failed, Lerner is teaming up a pair of friends who shared an apartment when they first broke into the league and have remained tight.
"The Browns are excited to bring George back to Cleveland where he began his NFL career," Lerner said in a team release. "He is a tireless worker that has spent his entire career evaluating talent and knows the type of player it takes to be successful in this league and in our division."
Terms of Kokinis' deal were not immediately known.
The Browns have scheduled a news conference on Monday to introduce the 41-year-old Kokinis, who spent 13 years with the Ravens, the past six as the club's director of pro personnel.
"I would like to thank Randy Lerner for the extraordinary opportunity," Kokinis said in a statement. "Cleveland is a football town and I look forward to working alongside Eric Mangini and the rest of the organization."
Cleveland's GM position has been open since Lerner fired Savage after the Browns concluded a 4-12 season. The Savage-Crennel team produced a 24-40 record and no playoff appearances in four years. Lerner still owes the pair millions after signing them to contract extensions last winter.
Kokinis' hiring has been expected for more than a week. He spent two days in meetings earlier this week at the team's headquarters. Along with Mangini and members of his new coaching staff, the pair evaluated Cleveland's current roster and began early preparations for free agency, the draft, minicamp and summer training camp.
With Baltimore, Kokinis was one of Ravens GM Ozzie Newsome's top aides. He was responsible for analyzing rosters, evaluating the free-agent market and assisting in the negotiations of draft picks.
In Cleveland, Kokinis, who wasn't on Lerner's radar screen when his GM search began, inherits a team with less talent and many more problems than in Baltimore.