The Oasis, Logan County's senior citizen center, 501 Pulaski St. in Lincoln, is open weekdays, except holidays, from 9 a.m. to 4 p.m. The center also is open on Friday and Sunday nights for table games. Dominic Dalpoas is the executive director. Activities are open to all Logan County senior citizens, regardless of membership. Friends of The Oasis members receive a bimonthly newsletter by mail and reduced rates for classes and trips. For more information, call 732-6132 or 732-5844.
Oasis notes
For the week of Jan. 29-Feb. 3
Send a link to a friend
[January 28, 2009]
Free tax assistance program
The Oasis is offering FREE tax assistance during the 2009 filing season. The senior center will offer electronic filing, which improves accuracy and ensures each return is accepted by the IRS in a timely manner. Tax volunteers at the senior center are trained in the TaxWise software but are not trained tax professionals. The guidelines prohibit the center from completing tax forms that involve the sale of property, business earnings, depreciation, stock sales, farm income, and other income or deductions that are not typical in nature; please seek the assistance of a tax professional. Services at the senior center will be available Monday, Wednesday and Friday, 9 a.m.- 4 p.m. Please call 732-6132 for an appointment.
The Oasis Belles
The Oasis Red Hat group, the Oasis Belles, will meet on Tuesday, Feb. 3, beginning at 11 a.m. After the meeting, lunch will be available for $3.25. Please call for a lunch reservation. The deadline is noon Monday.
Tuesday's lunch
The 11:30 a.m. lunch for Feb. 3 features ham salad sandwich, tomato soup, crackers, chips and dessert. The cost is $3.75, or if you stay to play cards, $3.25. The reservation deadline is Monday noon.
Free hearing tests
Hearing screenings will be available Wednesday, Feb. 4, 10 a.m.-11:30 a.m. Joyce Dearth, B.C.H.I.S., provides the service from the Hearing Aid Center. Service is by appointment only. Please call the senior center at 732-6132.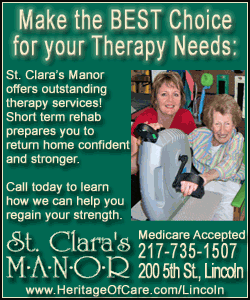 Gettysburg trip
The Oasis is planning an educational and fun trip to Gettysburg, Pa. The trip is currently being planned for the week of June 22-26. People interested in the trip can attend an informational meeting at the senior center on Feb. 4, beginning at 5 p.m.
Card winners
Larry Van Bibber won weekday pinochle. He and Marjorie Reiners were weekend winners. Congratulations.
[Text from Oasis news release]