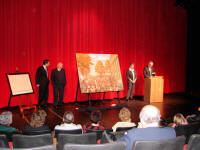 Former Lincolnites Joseph G. and Sudie M. Mintjal explain the significance of the 106th Regiment Muster Roll. "The first three names signed in Company F -- Capt. Wm. Beasley, 1st Lt. James J. Ewing, 2nd Lt. John R. Ash -- sound like Atlanta names." The audience chuckled at the familiarity of the names.
Lincoln College President John Hutchinson is joined by staff and students in admiring the painting.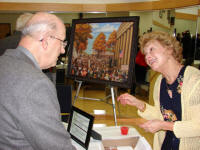 Two types of reproductions of the new painting are being made available. The higher quality Giclee is displayed in the background. A total of 25 Giclee prints are being made available at $400 each. There are 2,000 prints that will soon be available for purchase as well. The prints would cost less and are expected to be available at the Feb. 8, Looking For Lincoln dinner and at the Main Street Lincoln office.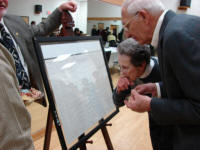 There are many familiar Logan County names listed on the "Muster Roll" of the 106th Infantry, donated by Joseph and Sudie Mintjal. The muster roll is a registry hand-signed by officers and men.