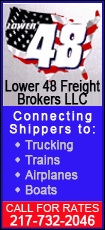 But no more.
Officials in the western Massachusetts town of Buckland have suspended the perk at least temporarily because it appears some people have been abusing the privilege.
Highway Superintendent Steve Daby told selectmen that people have been filling the backs of pickup trucks with the mixture, and that some people taking advantage appear to be from out of town, The Recorder of Greenfield reports.
Selectmen say they can no longer afford to give it away.
___
Information from: The Recorder, http://www.recorder.com/