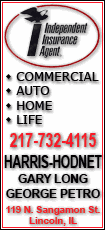 Gov. Pat Quinn canceled Blagojevich's security detail Thursday shortly after Blagojevich was removed from office by the state Senate.
Blagojevich became a private citizen again when the Senate voted to boot him after an impeachment trial triggered by his arrest last month on federal corruption charges.
Former Republican Gov. Jim Thompson has said it is customary in Illinois to extend security to a former governor for one year to ease the transition back to private life. The security team provides protection and drives the ex-governor around.
But Quinn said the state police superintendent agreed with his decision to end Blagojevich's protection, considering the circumstances of Blagojevich's removal.