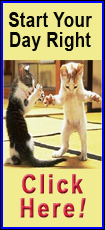 Natale posted $2,000 bail and is set to be arraigned Monday in Derby Superior Court. A message was left for Natale at his home Thursday morning.
Authorities said the arrest was the result of an investigation by police and the United Illuminating Co. They say a field worker discovered the problem.
UI spokesman Al Carbone said the illegal bypass was disconnected and reinstalled periodically. He said bypassing meters is dangerous and could cause electrocution or a fire.