Josh Davenport, the spirit of things, 'Pirates of Penzance,' library reading awards, Oasis bunco and travel soccer at the YMCA make the Close Up
By Mike Fak
[July 24, 2009] Congratulations to Josh Davenport. Josh has won the $500 drawing at Lincoln Daily News. Josh says it is his wife Emily's birthday next week and they are also going on vacation so the money will come in handy. Josh and Emily have a little girl named Joy and they also have an extra $500 just by reading Lincoln Daily News.
---

Get in the spirit of things this weekend. From cemetery walks in Emden to a "ghostwalk" in downtown Lincoln and a day to visit the historic Mill, there is plenty of nostalgia, history and perhaps something that goes bump in the night this weekend. For complete information on all of these events, just stop by our community calendar by clicking here.
---

Lincoln Christian Church will present Gilbert and Sullivan's "The Pirates of Penzance" July 29ľAug. 1 at 7:30 p.m. at the Lincoln Christian Church Fellowship Center, 204 N. McLean St. All tickets are $5 and may be purchased at the church office, 217-732-7618. Seating is limited to 300 for each performance. All proceeds from the show will be divided between Harvest of Talents for World Hunger and Together for Lincoln.
---

Thursday, July 30: The Lincoln Public Library's Summer Reading Program Awards Program, 10 a.m. This event is for readers 5 years and up. Preschool readers will receive their prizes with their shirts. Advance registration is required for all programs; call 732-5732.
---

Bunco games at The Oasis senior center will be on Monday, July 27, beginning at 1 p.m. Refreshments will be available, sponsored by Marilyn Armbrust of Regions Bank.
---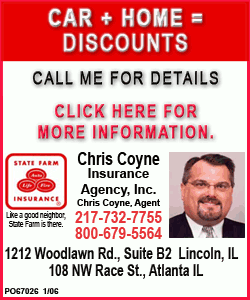 YMCA Travel Soccer -- This is a coed travel soccer team for children 12-14 years old who are willing to train hard twice a week with coach Steve Foster and travel on Saturday mornings to play other YMCA teams from Springfield. There will be nine weeks of soccer, with an option to play in a culminating, two-day tournament. Regular registration ends Aug. 7. Call 735-3915 for more information.
---
Got a good piece of news, information or something that we can all brag about? If you do, e-mail Mike and let us tell everyone about it. Plus you can win cash. Every submission, whether we use it or not, will get your name in the "Close Up" grab bag. At the end of the month we will draw a name and someone will get $25 just for dropping us an e-mail. If you wish, we will be happy to donate your winnings to the organization of your choice.
You can contact Mike at mikefak@lincolndailynews.com.
[By MIKE FAK]