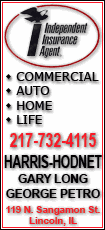 After having several meetings in Chicago, the Illinois Admissions Review Commission will meet Monday morning in Urbana.

White has defended the university's so-called Category I list as a way to track inquiries from politicians and others about students applying to the university.

He's also said admissions officials shouldn't be pressured to admit students. News reports and documents released by the university show that's what has happened the past few years.

Also scheduled to appear are former university Presidents Stanley Ikenberry and James Stukel.

Copyright 2009 The Associated Press. All rights reserved. This material may not be published, broadcast, rewritten or redistributed.