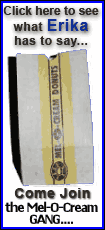 The Rotary Club of Lincoln's meetings are lively: mixed with doses of song, communications, announcements and interesting guests. It is at these luncheons that the members also are kept abreast of what the next project or fundraiser is going to be.

There is no need to be concerned about enough volunteers for a task or project. They are Rotarians, and that in itself means they are all volunteers ready and willing to do what needs to be done for our community or a community halfway around the world.

Several Rotarians offered their opinions on why they are proud members of the organization. Words such as service to the community and helping others who could use their help were in every one of their statements.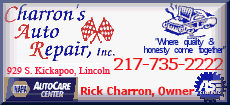 For residents in Lincoln, the effects of the Rotary Club of Lincoln in helping create a better way of life for us all are as simple and inconspicuous as a water fountain in the Lincoln Public Library to other, more noticeable improvements in our community, such as setting up the playground equipment in Scully Park or the picnic pavilion in Memorial Park. The garden around the Postville Courthouse was a Rotary project. The highway cleanup of the beltline from the fairgrounds all away around to Union Street across from Eaton is a Rotary project as well. The club also finds time to honor academic excellence and recognizes the top 10 percent of the LCHS graduating class each year at their luncheons.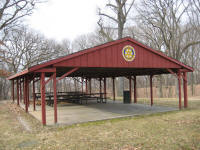 But actively helping in our community is not something new to Rotary. Throughout their storied 86-year history, Rotary has given much to this community. In 1930, Rotary donated band instruments to Lincoln College. They co-sponsored the Abraham Lincoln statue inside the Logan County Courthouse in 1939. During World War II, they sponsored blood banks. In the 1960s the Rotary began sponsoring scholarships to Lincoln College and Lincoln Christian College. In 1973, during their 50th-year celebration, they planted 200 linden trees in the community. In 1980 they erected the bus-train shelter near the Lincoln Depot. The list of community projects accomplished by the Rotary Club of Lincoln both past and present goes on and on, and it would be as difficult to name them all as it would be to recognize every blade of grass in the community..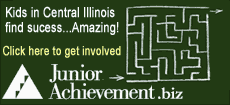 The membership also uses their manpower to volunteer for services that might not leave a tangible, physical mark but still have a lasting effect on the quality of life in the community. Volunteers read at Lincoln grade schools twice a year; Rotary supplies drivers for the shuttles at the Lincoln Art & Balloon Festival; and members are yearly regulars for the Salvation Army's bell-ringing fund drive during the Christmas season.
Rotary also carries a selfless obligation to their fellow man wherever in the world they are needed. The club donated two semitrailer loads of supplies for Hurricane Katrina relief. They recently helped the Pontiac Rotary Club fill a shipping container full of clothing and basic needs to be sent to Zambia, and they continue to support project COPE in Kenya, which supplies food, clothing, education, tools, Christian leadership and much more to the people of Kenya.
Still, with all they do, they also help provide financial assistance to many of our favorite local causes. The list of financial donations includes Boy Scouts, YMCA, 4-H, TOUCH and the chamber of commerce as well as their annual scholarships to Lincoln College, Lincoln Christian College and Heartland Community College.
The Rotary earns their funds through their hard work at community fundraisers, such as their annual garage sale, chicken dinner fundraiser and their well-known yearly citrus sale.
There is an old adage that says, "The whole is greater than the sum of its parts." This group of active, dedicated and community-driven individuals gathered together in Rotary to help their fellow man makes them more than they are individually.
It is for their active, selfless effort to improve the lives of everyone that LDN recognizes the Rotary Club of Lincoln as our first collective Personality of the Week.
[By MIKE FAK]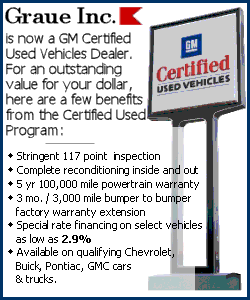 The history of Rotary
The idea of a club or organization devoted to the principles of fellowship and friendly interactions between kindred spirits in different lines of business, which later developed into Rotary, was first conceived in the mind of Paul Harris, a lawyer living in Chicago. The four original members rotated their weekly meetings at each other's businesses, and thus the name Rotarian was created.
On April 23, 1923, the Rotary Club of Lincoln was organized, sponsored by the Clinton Rotary Club. Currently there are more than 32,000 clubs with 1.2 million members throughout the world.
Object of Rotary
The object of Rotary is to encourage and foster the ideal of service as a basis of worthy enterprise and, in particular, to encourage and foster:
The development of acquaintance as an opportunity for service.

High ethical standards in business and professions, the recognition of the worthiness of all occupations, and the dignifying by all Rotarians of their occupation as an opportunity to serve society.

The application of the ideal of service by all Rotarians to their personal, business and community life.

The advancement of international understanding, good will and peace through a world of fellowship of business and professional people united in the ideal of service.
The 2009-2010 executive board of the Rotary Club of Lincoln:
Deb Ackerman, president

Don Peasley, past president

Michelle Bauer, president-elect

Phil Gillen, secretary

Dale Meier, treasurer

Dave Hoffer, director of club services

Kristen Green-Morrow, director of international service

Marcia Greenslate, director of club service

Dara Entwhistle, director of public relations