Both were born and raised on Long Island, N.Y., and in a moment Linda can bring back her "New Yawk" accent to prove it.

Although the two went to Baldwin High School, they didn't date until after Linda graduated in 1966. Stuart was a grad of the '64 class, and the two met when Stuart's friend and Linda's girlfriend, who were brother and sister, felt the two would make a perfect pair. The friends were obviously correct since Stu and Linda married two years later.

Stuart, showing his humor and wanting to make sure there was no misspelling, turned his coffee cup when he was asked where he continued his education. Linda laughed and said she didn't believe that he brought out and now proudly displayed his official Hofstra University coffee cup.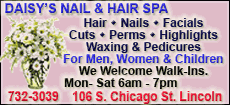 While Stuart was obtaining his degree in business, Linda went to the prestigious Katherine Gibbs School of Business. The school taught young women how to become executive secretaries, fluent in grammar, typing and other skills needed for the world of business.
When asked if she ever had an opportunity to use those skills upon graduation, Linda laughed and said, "Not a day. I got married."
After graduating from Hofstra, Stuart served two years in the U.S. Army, in the Signal Corps, and was sent to the Defense Language Institute to learn Vietnamese. This caused him to spend a year in Vietnam, and he wasn't about to re-enlist when his time was up. "They wouldn't send me to Germany knowing Vietnamese, so I didn't re-up," he explained with a laugh.
Stuart began his civilian career at the U.S. Department of Agriculture, and between 1971 and 1976 the couple lived in the D.C. area. They have two daughters, who both live in Lincoln: Pam Kunkel and Angela Stoltzenburg.
During Stuart's tour with the USDA the family also lived in Owego and in upstate New York until taking a transfer to Lincoln in 1988.
Stuart retired from the USDA in '95 and then began a job with Menard Electric until 2008, when he retired for good from the job force. Linda worked for nine years at the Lincoln Public Library and owned and operated the Mustard Moon until 2007.
Now that they have no defined work schedules, the two are far from inactive. Both work in the community wherever they see a need or, as Linda said, "We don't know how to say no to people, so we keep getting involved in something else."
Talking to others, the Churchills' not being able to say no has been a blessing to many organizations in Lincoln.
Wanda Lee Rohlfs, executive director of Main Street Lincoln, remembers Linda's involvement with Main Street when her shop was downtown. "Linda was our secretary, and she was on the promotions committee as well," Rohlfs said. "She always was willing to help with things. I'm positive if I called her up today and said I needed her help that she would be here."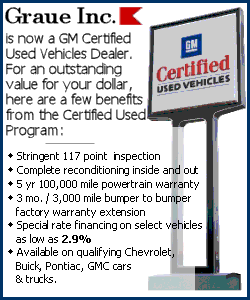 Richard Sumrall, director of the Lincoln Public Library, said that having the couple as a Personality of the Week was a "super" choice. He has known both for many years and has seen firsthand their community efforts.
"Linda and Stu Churchill truly represent the volunteer, can-do spirit that you find in Lincoln," Sumrall said. "Linda is a former library employee who has returned many times over the years to volunteer for numerous events. In my experience as director, she has been a community advocate for the library and always answers the call for our help. Her efforts in the downtown area, particularly with Main Street Lincoln, have resulted in a more attractive downtown for all of us to enjoy. She is also active with the senior citizens and (the) less fortunate in our community through her volunteerism with Community Action."
Stu is also a longtime volunteer for the library. He currently serves the community as a library trustee and has completed a term as board president. As one example, he is a volunteer for the library's used book sale that is held annually during the Lincoln Art & Balloon Festival.
"I believe that Linda and Stu Churchill are a great example of two people who continuously devote their time and energy to making Lincoln a better place to live, and I hope their hard work and community spirit will inspire others to do the same," Sumrall said.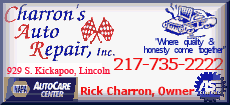 Mike Booher, a board member for the Community Action Partnership, agrees with Sumrall on the pair's efforts to help out wherever needed. "For some reason, Linda enjoys painting, and she is always volunteering to paint something over at the building that needs to be painted." Linda also helps the partnership in other functions, especially the highly successful annual Cheeseburgers in Paradise, which is the agency's top fundraiser.
Stuart, who has an often broken rule of being involved with only five things at a time, also is currently a board member of Kiwanis and will be the club's next president. He rounds out his current community resume by also being the treasurer for the United Way of Logan County.
But even with all this on their plates, the active couple find time for a new hobby that Linda is enthused about: her family genealogy. Linda, whose maiden name was Brace, can track her ancestors coming to America all the way back to 1644, and she is finding out more and more about her extensive family tree. She is currently waiting to see if she will be added to the local chapter of the Daughters of the American Revolution.
Their upcoming trip to New York will not only be to visit relatives but to do more researching in records and archives on her ancestors and what effect the family has had on America.
It doesn't take a genealogist, however, to notice immediately that the effects Stuart and Linda Churchill have had on Lincoln deserve to be archived now and forever as our first tandem Personalities of the Week.
[By MIKE FAK]