Day care training, Zonta, sheriff's scholarship, Grace Sheley, Tori Hoban and Lincoln Christian Church hit the Close Up
By Mike Fak
[March 06, 2009] University of Illinois Extension in Logan County will be offering a Daycare Provider Training on Monday, March 16th from 6 – 8 pm at a cost of $10.00. "When All You Hear is NO!" will be presented by Patti Faughn, Family Life Educator from University of Illinois' Springfield Extension Center.
This program will help daycare providers realize why a two or three year old shakes his or her head and shouts "no" when asked to do something. At this training daycare providers will learn ways to meet this child's need for autonomy during the "no" years. Daycare providers in attendance will receive two hours of continuing education credit for daycare licensing requirements.

To register for the "When All You Hear is NO!" Daycare Provider Training, please contact the Logan County Extension Office at 732-8289 for a registration form. The deadline for registration is Wednesday, March 11th.
---
The Zonta Club will meet on Tuesday, March 10 at 6:15 p.m. at the American Legion. Members should contact Judy Awe at 732-4758 before 7:30 a.m. on Monday, March 9, if they are unable to attend.
---
The Illinois Sheriffs' Association will award more than $53,000 in scholarships to full-time college students throughout the state who wish to pursue a higher education during the 2009-2010 academic year at an Illinois institution of higher learning. The scholarships are to be applied to tuition, books and fees only.

Sheriff Steve Nichols of Logan County will award one $500 scholarship. Applications are available in his office, or online at

www.ilsheriff.org.

The application must be completed, the essay question answered and all documentation returned to Nichols' office by March 13.
---
Zion Lutheran School conducted its annual ZLS Spelling Bee on March 4. Participating in the bee were: 8th graders – Karli Cox and Grace Sheley; 7th graders – Justin Broom and Brad Miller; 6th graders – Tori Hoban and Josh Mangano; 5th graders – Elizabeth Ford, Garret Olson, and Ben Steiner; 4th graders – Sydney Johnson, Zack Prather and Kalyn Roberts. Tori Hoban won first place and Grace Sheley was the runner-up.
Pictured are Grace Sheley (runner-up) and Tori Hoban (school champion).
---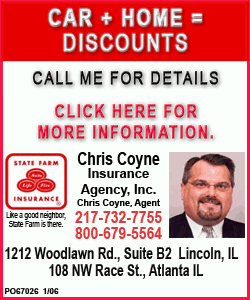 The Lincoln Christian Church youth choirs, Good News Publishing and HeartSong, are sponsoring "A Night of Theatre, Scripture and Dessert," featuring two 10-minute plays: "Death Loves Chocolate," by Bruce Boeck and "Your Turn to Watch Dad," by Walter Thinnes. There will also be selections from the books of James. A donation is suggested. Don't miss the pie auction - made by some of the best pie makers in the area. The event will be held Saturday at the Lincoln Christian Church Fellowship Center, 204 N. McLean St. starting at 6:30 pm.
---
Got a good piece of news, information or something that we can all brag about? If you do, mail Mike and let us tell everyone about it. Plus you can win cash. Every submission, whether we use it or not, will get your name in the "Close Up" grab bag. At the end of the month we will draw a name and someone will get $25.00 just for dropping us an e-mail. If you wish, we will be happy to donate your winnings to the organization of your choice.
You can contact Mike at mikefak@lincolndailynews.com.
[By MIKE FAK]