Lincoln Area YMCA will be mailing out its spring-summer program guide during mid-March. Perhaps in this difficult economic time your family is not planning a spring or summer vacation. There is no need to worry because plenty of fun sports, swim lessons, water park field trips and day camp programs will be offered to kids of all ages. Call the YMCA today to get your free copy for summer fun.

Early spring soccer registrations are over, but it's not too late to sign up, for a nominal fee. Come into the Y office to sign your child up for Y Soccer BEFORE March 18. Children ages 4 years to sixth grade learn basic soccer fundamentals, skills and rules, all while having fun and meeting new friends. Don't miss out on this exhilarating program; stop by the YMCA office today.

The Cleats for Kids program is back this year, and we need your participation. If you have gently used cleats or need cleats, please contact the Y office for more information. Cleats will be available at our soccer games. Thank you for helping us to provide this great service, especially with the current state of the economy.

Volleyball Clinic registrations are now being accepted. Children in first through sixth grade will be introduced to the sport of volleyball and will be taught the many skills necessary to play. Y instructor Krista Hoban will work with the kids to improve their skills and teach them the fundamentals of volleyball. This six-week session is on Tuesday evenings.

Y Party Night is fast approaching. This party is sports-themed for children in second through fifth grade and will be on March 20, 7-9 p.m., at the Y Activity Center, 719 Wyatt Ave. We will play games, have contests, pizza and drinks, as well as WIN GREAT PRIZES. Your child must be registered at the YMCA office prior to the party.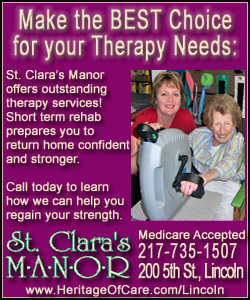 The Lincoln Area YMCA's annual Partner With Youth Strong Kids campaign kicked off during early March. This important campaign supports the financial scholarships that the Lincoln Area YMCA awards to local participants who cannot afford to pay the entire program fee. Participants can apply for financial assistance through the Y office. All applicants are required to complete an application and must meet income guidelines. The 2009 campaign goal is $13,000, and every donation received through this campaign is used locally only.
School's Out Fun Days for spring break in April will be here before you know it. Fun Days for kindergarten through sixth grade will be on April 8 (District 27 only), April 9 and April 13 from 6:30 a.m. to 6 p.m. at the Y Activity Center. No activities are scheduled on April 10 as the YMCA will be closed for Good Friday. Registration deadlines apply, and there will be a fee increase of $8 per child per day for any registrations received after March 25. Fun Days participants will do arts and crafts, hear stories, play games, and much more. Stop by the Lincoln Area YMCA office soon to register.
Cow bingo is just around the corner. Come on out May 9 and enjoy a day of fun and fellowship with kids and families. This event is free and includes a "cow pie" eating contest, inflatable bouncer-climber-slide, hot dogs and more. Tickets for the famous cow bingo game are on sale NOW for just $15 each. Get your ticket for a chance to win a $750 cash prize.
[Text from file received from Lincoln Area YMCA]