The Lincoln Public Library is located at 725 Pekin St., with adult nonfiction and reference materials in the historic Carnegie Building. In the Annex Building directly behind are adult fiction and the Youth Services Department. All library events are free and open to the public. On the Web, visit www.lincolnpubliclibrary.org.
Hours are Mondays, Wednesdays and Fridays, 9 a.m.-5 p.m.; Tuesdays and Thursdays, 9 a.m.-7 p.m.; and Saturdays, 9 a.m.-1 p.m. Phone 217-732-8878 for adult services and 217-732-5732 for youth services.
Library notes

Send a link to a friend
[March 03, 2009]
Book club for parents and children
There was an organizational meeting on March 2 for anyone interested in a reading club for a parent (or grandparent, aunt, uncle, etc.) and child to join together. Participants themselves will determine book choices, dates and time to meet.
Baby sitter's training
A baby-sitting clinic taught by American Red Cross trainers will take place on April 13 from 10 a.m. to 4 p.m. in the Community Room of the Annex Building. This training session is open to 11- to 15-year-old boys and girls who want the skills and confidence to be great baby sitters. The cost of this full-day class is $40, and a limited number of partial scholarships are available by contacting the library. Call 732-5732 to register.
Miss Lou's blog
Louella Moreland, youth services librarian, has started a blog that can be found through the link at www.lincolnpubliclibrary.org or directly at lincolnpubliclibraryupdates.blogspot.com. She will be discussing new books, introducing our programs, taking polls and asking for your ideas. Check it out.
Picturing America
In partnership with the LCHS National Honor Society and Media Communications class, a DVD exhibit will be on display in the Annex Building. Reproductions of significant American art, architecture, photography, sculpture and decorative art will be the focus of this exhibit, which will change bimonthly for the remainder of 2009. Students from the LCHS classes will offer a visual narration and interpretation of the reproductions.
Children's book displays
Come in and see our display of books about St. Patrick's Day, as well as books to welcome spring. Whether you are reading for a school report or just for fun, we always have interesting groupings of books to peruse. We also have pop-up books and books with fold-outs to enjoy while you're here in the library. Look for them in the Youth Services Department.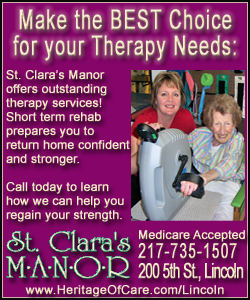 Story time and craft time
Our story time groups are Little Listeners Lapsit, for age 6 months to 2-year-olds; Beginning Book Buddies, for 3- and 4-year-olds; and Ready Readers, for 5- to 7-year-olds. Seven-week sessions are offered in the winter, summer and fall. We are currently offering our winter session. Craft classes are for 8- to 12-year-olds. The craft session is in progress, with sign-up no more than two weeks in advance of each class you would like to attend. Call 732-5732 to sign up your child for any event.
Upcoming events
Our butterflies will arrive in April as caterpillars, and it is always a favorite display for the kids! Watch the caterpillars form a chrysalis, then emerge as live butterflies!
Coming in June and July is the Summer Reading Program, with several levels for kids 6 months through teens. Also offered are story times and craft time. More information to come.
Live Homework Help
Log on to www.lincolnpubliclibrary.org to get help from a live tutor. The one-on-one help is available to kindergarten through adult learners in math, science, English, social studies and writing. Use your Lincoln Public Library card number to log in.
[Text from file received from Marlene Perry, Lincoln Public Library]