Crime Stoppers, First Baptist Church, Beason Fire and Rescue, Mount Pulaski American Legion, Lincoln First United Methodist Church and Humane Society make Close Up
By Mike Fak
[March 10, 2009] We appreciate it when readers ask us questions. Yes, we forgot to mention last month's grab bag winner in our Close Up but we will now. Congratulations to the Lincoln Logan Crime Stoppers. A check for $25 will be sent to them just for telling us their important information. Don't be left out of winning some cash for your favorite organization, and make sure that your community information makes it to Close Up. It's easy. Just follow the simple steps explained at the end of every Close Up.
---

On Saturday, March 14 there will be a pancake and sausage breakfast at the First Baptist Church at 101 Broadway. It's all you can eat and the hours are between 7am-noon.
---

The Beason Fire and Rescue will have a pancake and sausage breakfast with biscuits and gravy on Sunday, March 15 between 7am-noon. This annual "all you can eat" pancake and sausage breakfast will add this year the ever popular biscuits and gravy to the menu. Price is by donation. Bulk sausage will also be available for purchase. Proceeds benefit the Beason Fire Department and Rescue Squad. The public is invited to attend.
---

The annual Mt. Pulaski American Legion NCAA Basketball Stag will be Monday, March 16 – The pork chop dinner starts at 6 pm. $10 carryout dinners are available from 5:30 pm - 6:00 pm.
---

The Lincoln First United Methodist Church is having a Ham & Bean Dinner Saturday, March 14, 2009 - 11:00 a.m. - 1:00 p.m. It's all you can eat. The prices are adults-$6.00, children under 12-$3.00. All proceeds go to the Volunteers in Missions Program of the United Methodist Church.
---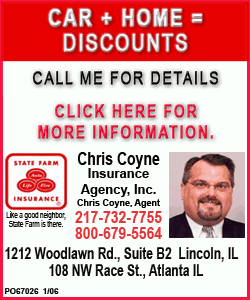 The Humane Society of Logan County will be having their Rummage Sale on Saturday, March 14, 2009. Please clean out your closets, drawers and the garage and bring your saleable rummage (no clothing please) to the Lincoln Woman's Club, 230 N McLean St, Lincoln on Friday, March 13, 2009 from 4:00 to 8:00 PM. For more information call Marsha Brown at 217.735.2108.
---
Got

a good piece of news, information or something that we can all brag about? If you do, e-mail Mike and let us tell everyone about it. Plus you can win cash. Every submission, whether we use it or not, will get your name in the "Close Up" grab bag. At the end of the month we will draw a name and someone will get $25 just for dropping us an e-mail. If you wish, we will be happy to donate your winnings to the organization of your choice. You can contact Mike at mikefak@lincolndailynews.com.

[By MIKE FAK]