The Oasis, Logan County's senior citizen center, 501 Pulaski St. in Lincoln, is open weekdays, except holidays, from 9 a.m. to 4 p.m. The center also is open on Friday and Sunday nights for table games. Dominic Dalpoas is the executive director. Activities are open to all Logan County senior citizens, regardless of membership. Friends of The Oasis members receive a bimonthly newsletter by mail and reduced rates for classes and trips. For more information, call 732-6132 or 732-5844.
Oasis notes
For the week of March 12-18

Send a link to a friend
[March 11, 2009]
Oasis potluck
Join us at 11:30 a.m. Thursday, March 12, for our St. Patrick's Day potluck, featuring corned beef and cabbage, special dishes and wonderful desserts. There is no charge for food or beverage provided at this event. If you do not bring a dish to pass and wish to make a donation, the suggested amount for March is $3. We will have our monthly drawing and entertainment. Following the potluck there will be bingo, sponsored by Christian Village.
Blood pressure checking
The Oasis hosts free blood pressure checking every Friday between 10 and 11:30 a.m. No appointment necessary.
March birthdays
Birthday time! March birthdays will be celebrated at the senior center on Monday, March 16, beginning at 1:30 p.m. Come for ice cream and cake.
Tuesday's lunch
The 11:30 a.m. lunch for March 17 features meatloaf, mixed veggies, bread and butter, and dessert for $3.75; or, if you stay to play cards, the cost is $3.25. The reservation deadline is noon Monday.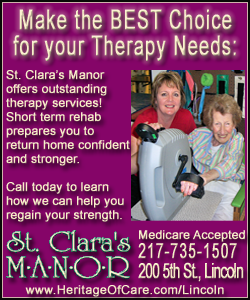 Card winners
The winners for weekday pinochle were Eleanor Barton and Larry Van Bibber. The weekend winners were Henry Warnisher and Wally Reifsteck. The five-in-one winner was Bernie DePuy. Congratulations.
[Text from Oasis news release]