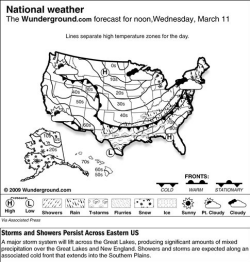 The nation's weather

Send a link to a friend
[March 11, 2009] (AP) A major winter storm was sending freezing rain over New England and bringing snow and high winds to the Great Lakes and Upper Midwest on Wednesday. The cold front was to extend across the Ohio Valley, Tennessee Valley and the southern Plains.
Moderate to heavy snow was to continue to fall over the northern Upper Midwest. Gusts up to 40 mph were to cause areas of blowing and drifting snow. These winds combined with Arctic air rushing in from the northwest were to create wind chill readings 20 to 30 degrees below zero.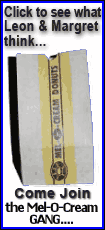 In addition, whiteout conditions were likely in some areas from lake-effect snow showers. The Mid-Atlantic and Southeast were not expected to see much from the storm, however.
Moving south, widespread rain and scattered thunderstorms were anticipated across the Ohio Valley, Tennessee Valley, lower Mississippi Valley and southern Plains. A drastic plunge in temperature was expected in all areas, with temperatures dropping 30 to 40 degrees from Tuesday's warmth. Heavy precipitation was expected into Thursday across much of the South, with thunder, snow, sleet, freezing rain and rain.
Out West, much of the region was to be sunny and dry.
Temperatures in the Lower 48 states on Tuesday ranged from a low of minus 21 degrees at Scobey, Mont., to a high of 92 degrees at Alice, Texas.