Christian Village, LC Genealogical and Historical Society, Lincoln College, YMCA, Ag Day Breakfast and square dancing in Close Up
By Mike Fak
[March 13, 2009] Christian Village Pinochle Tournament. Take a chance in this exciting tournament. Fun, prizes, and refreshments all included at no charge. In addition to skilled tables, beginnerís tables will be set up for those who want to learn the thrilling game of Pinochle. Players ages 50 and over only, please. No registration or entry fee required. Spaces will fill up quickly for this lively tournament on Wednesday, March 18th from 1:15-4 p.m. Come join us at The Christian Village Senior Apartment building, 1500 7th Street, Lincoln. For more information call Julie King at (217) 732-2189.
---

The Logan County Genealogical and Historical Society will have a Freight Depot Restoration Presentation by Gene and Wanda Rohlfs on March 16, 2009 at 6:30 p.m. Zion Lutheran Church has graciously provided a room for the meeting and presentation because the Society building is being remodeled. Members and visitors are welcome to attend.
---

Reminder: Information session on Accelerated Bridge to Education program at Lincoln College will be Tuesday, March 17. Are you an adult interested in completing your bachelor's degree? With Lincoln College's Accelerated Bridge to Education program, you can earn your bachelor's degree by attending class just one night a week. Degrees are offered in business administration, liberal arts and health services administration, as well as an 18-credit-hour dental services management certificate. To hear more about the program, attend the information session. The meeting will be in the Alumni Room, Meyer-Evans Student Center at 6 pm. RSVP to abeinfo@lincolncollege.edu.
Visit www.abe.lincolncollege.edu.
---

The Lincoln Area YMCA's annual Partner with Youth Strong Kids campaign kicked off during early March. This important campaign supports the financial scholarships that the Lincoln Area YMCA awards to local participants who cannot afford to pay the entire program fee. Participants can apply for financial assistance through the Y office. All applicants are required to complete an application and must meet income guidelines. The 2009 campaign goal is $13,000, and every donation received through this campaign is used locally only.

---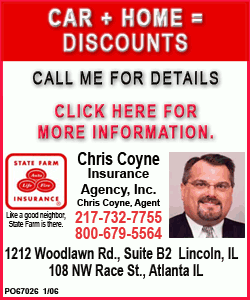 The 10th Annual Logan County Ag Day Breakfast is on Thursday, March 19, at 7 a.m. at Lincoln Christian College and Seminary's Laughlin Center. This is a free event for the public that provides a networking environment for both agriculture and business leaders. During the breakfast, the program will include an informational ag update, comedian Steve Caminiti and the awarding of the scholarships.
---

Introduction to square dancing is being offered by the LinPro Dancers on Thursday, March 19, at the Lincoln Woman's Club, 230 N. McLean St. It starts at 7 pm. This free event is open to the public. No experience is required. Call for info: 735-2702, 9 am-8 pm.
---
Got a good piece of news, information or something that we can all brag about? If you do e-mail Mike and let us tell everyone about it. Plus you can win cash. Every submission, whether we use it or not, will get your name in the "Close Up" grab bag. At the end of the month we will draw a name and someone will get $25.00 just for dropping us an e-mail. If you wish, we will be happy to donate your winnings to the organization of your choice. You can contact Mike at mikefak@lincolndailynews.com.
[By MIKE FAK]