It began just after midnight on Dec. 9, 2008. Sherman Police Chief Eric C. Smith said that one of his officers observed a vehicle on Interstate 55 moving erratically, changing lanes, speeding up and slowing down. The driver was suspected of driving under the influence.

A Sherman police officer pulled the driver over, but as the officer got out of his vehicle, the driver sped away.

A high-speed chase ensued but was dropped at about Elkhart after speeds exceeded 100 mph. An all-points bulletin was issued by the Illinois State Police.

Lincoln police on the alert observed the vehicle come into town from the south but kept their distance. However, midway through Lincoln, the driver made directional errors that put him in the Carroll Catholic School parking lot. He then began driving recklessly, which led to property damage in the lot, and shortly thereafter he struck a marked squad car that was stopped near Decatur Street.
Lincoln police took up an active pursuit to stop the vehicle. From the downtown area the driver continued to travel north on Logan Street, despite one tire blown. The chase came to an end when the driver failed to negotiate the curve at the end of Logan Street and the vehicle became stuck in a ditch.
The oddity of this event was that it was not some young hooligans gone wild, wreaking havoc; nor was it a criminal type with warrants, in a stolen vehicle or on a getaway; nor was it anyone from whom hazardous behavior might be expected. Rather it was a senior citizen who emerged from the vehicle.
Suvada Lindsey, 71, of Starkville, Miss., was arrested and detained in the Logan County Jail until his court appearance in Logan County. Tests taken after his arrest indicated no alcohol or other illegal substance use.
Lindsey pleaded guilty to aggravated fleeing and eluding a peace officer. He was sentenced to 24 months conditional discharge plus the nine days he had already served in jail. He was also ordered to pay fees and costs.
Following his court appearance he was put on a train and sent back to his home in Mississippi.
He was scheduled to appear in Sangamon County Court on Feb. 10 for traffic violation charges from the incident. The Sherman Police Department had issued citations for speeding and improper lane usage.
A representative of the Sangamon County states attorney's office said that Lindsey did not show up at his first scheduled court appearance, and following procedure, the office issued a continuance to March 10.
Lindsey would not make either appointment.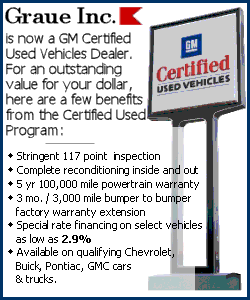 Suvada Lindsey was found dead in his home more than a month ago.
The exact date of death was unknown, according to Michael Hunt, the coroner for Oktibbeha County, Miss. He said that a social worker doing a scheduled check found him. The family was permitted to choose the date of death and chose Feb. 1, 2009. His death was of natural causes, Hunt said.
Officials in Sangamon County are now closing out their paperwork on the case.
Lindsey was born and raised in East Chicago and worked at Inland Steel in Chicago for 36 years before he retired. His wife of 50 years and most of his family still live around the Gary, Ind., area. His funeral was in Gary.
Obituary accounts proclaimed his strong belief in God, that he bore a servant's heart in his church and was a "prayer warrior" when he lived near Chicago. He was remembered lovingly by family members.
It was unclear why the nearly lifelong East Chicago man was living in Mississippi, so far away from his roots. It also remains a question of what led to the erratic behaviors of the senior citizen who led police from several jurisdictions on a high-speed chase in the wee hours of the morning. Now, with Lindsey's death, those answers will never be known.
Lincoln is 567 miles and nine hours driving from Starkville, Miss. It is another three hours to Gary, Ind.
[By JAN YOUNGQUIST]