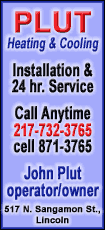 But Quinn contends his income tax proposal would amount to a tax cut for millions of Illinoisans by increasing the personal exemption to let them shield more income from being taxed.

Quinn wouldn't give specific details Friday on the income rate or personal exemption levels he plans to propose.

But he did give a hint about who would be affected by any tax increase.

The governor says a family of four making less than about $57,000 a year won't see its taxes go up. The less money people make, he says, the more of a tax cut they'll see.

Copyright 2009 The Associated Press. All rights reserved. This material may not be published, broadcast, rewritten or redistributed.