More than 30 crafters and vendors will be participating. Featured merchandise will include Easter and spring-themed items, hand-beaded jewelry, handmade baby and kitchen items, pottery, quilted and embroidered items, homemade fudge, cake samples, wood crafts and furniture, floral designs, doll clothes, plus much more!

Tastefully Simple, Premier Designs High Fashion Jewelry, Usborne Books and Watkins representatives will also be participating.

LJWC will also feature a bake sale, a raffle (containing crafter/vendor items and local business donations) and Jenny June's Cafe serving lunch. Please contact Tina Warfel with any questions at 217-735-3048.
---

WLNX to Simulcast Lynx Game. Lynx fans who can't go to Wednesday's night game won't miss the action, because WLNX-FM 88.9 (89X) will simulcast the play-by-play audio of WDAN talk radio in Danville.
WLNX General Manager John Malone hopes this helps Lynx fans as well as area listeners. "We are excited about the Lynx going to Nationals and want to share our excitement with fans that can't go to the game. This simulcast is a great service to people who follow the Lynx and cannot make it to the games," said Malone.
The Wednesday night game in Danville starts at 8:00 p.m. with a pre-game show starting at 7:50 p.m. The Lynx will take on Morton College. The program can also be heard live on the WLNX Internet stream at www.wlnxradio.com.
---

LCHS Baseball Boosters Pancake and Sausage Breakfast is March 22, 2009, from 8am-noon at the American Legion Hall. Serving pancakes, sausage, biscuits with gravy. Tickets are $6 for adults, $5 for children under 12.

Meet the Railers will take place at noon at the same location.
---

Chester-East Lincoln will be hosting a FREE Preschool/Kindergarten Screening Thursday, March 19, 2009, 4:00-7:00pm, at the school for all children in the Chester-East district, birth through 5 years old. They will be checking Speech/Language development, development of Preschool Skills and/or Kindergarten Readiness. All children who will be 5 before September 1, 2009, and plan to enter kindergarten for the 2009-2010 school year need to go through this screening. Call C-EL at 732-4136 for an appointment for your child to be screened.
---

Habitat for Humanity of Logan County will celebrate a Groundbreaking Service for the 13th home in Logan County on Sunday, March 22, 2009, at 3:00 p.m. The future home site, at 511 S. Lafayette in Mount Pulaski, is the third home to be built in that community. The Rev. Mr. Kevin Treptow, pastor of the Mount Pulaski Methodist Church, will participate in the Groundbreaking Service for Dawn and Hannah Skaggs' home along with HFHLC board members and others. Lyle Fout will be the building foreman. Volunteers for all stages of the build can call the HFHLC office at 217/732-6412 or Allen Shew, building coordinator, at 217/732-4605.
---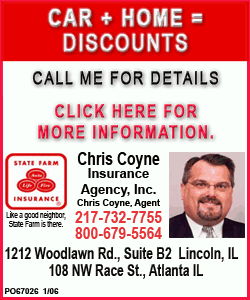 Logan Lanes Summer Leagues are now forming. Three of their leagues have a free bowling ball giveaway with them. New to this type of league is our Sports League. Participants will receive a bowling ball, bag, and towel from the Cubs, Cardinals, or any NFL team of their choice. This league will bowl on Wednesdays at 6:30 pm. Sundays will have the Sunday Mixed League again. Those more competitive will want to check out Thursday's Super 4s League.
As they did last summer, all league participants will get 4 FREE games of bowling every day. This is worth over $1,200!!
---

The music department of the Lincoln Community High School competed in the Illinois High School Association's Solo and Ensemble Contest held on March 7th at Millikin University. Lincoln received 108 sweepstakes points out of a possible 132, receiving 17 Division I ratings, and 2 Division II.
The following students received a Division I rating:
Acoustic Guitar Solo - Alex Williams
Clarinet Solo - Katelyn Cecil
Euphonium Solo - Adrienne Alley
Alto Saxophone Solo - Matt Mason
Flute Solo - Kathyrn Opperman
French Horn Solo - Kelly Knecht
Trombone Solo - Rigoberto Ernst
Trombone Solo - Cody Garretson
Trombone Solo - William Grover
Trumpet Solo - Burgandy Henderson
Tuba Solo - David Fulton
Tuba Solo - Haydn Zimmer
Piano Solo - Kelly Knecht
Piano Solo - Matt Mason
Piano Solo - Doreen Sheen
Flute Trio - Kathyrn Opperman, Ashley Papirnik, Doreen Sheen
Piccolo Solo - Abby Butler
The following students received a Division II rating:
Piano Solo - Rigoberto Ernst
Trumpet Solo - Sam Chon
Lincoln High School also had two students who received "Best of the Day Awards" for being the best performer of the day in a judge's room.
Those students were Matt Mason on alto saxophone and Doreen Sheen for piano.
Congratulations on a job well done!
---
Got a good piece of news, information or something that we can all brag about? If you do, e-mail Mike and let us tell everyone about it. Plus you can win cash. Every submission, whether we use it or not, will get your name in the "Close Up" grab bag. At the end of the month we will draw a name and someone will get $25.00 just for dropping us an e-mail. If you wish, we will be happy to donate your winnings to the organization of your choice.
You can contact Mike at mikefak@lincolndailynews.com.
[By MIKE FAK]