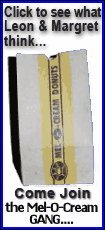 He had faced 64 counts of making threats and hoaxes after mailing letters from Amarillo to 52 offices and banks in 11 states and the District of Columbia in October. No one was injured and the powder was found to be calcium carbonate, a major component of blackboard chalk.
Goyette, who remained in Randall County Jail on Monday, faces up to 15 years in prison, a $500,000 fine and other penalties at his May 25 sentencing in U.S. district court.
"We felt that was a fair offer and it was in the best interest of justice," said Brooks W. Barfield Jr., Goyette's attorney. "He's certainly regretful and certainly feels bad for any distress or anxiety he may have caused anyone."
Goyette was working for a New Mexico energy provider at the time of his Feb. 2 arrest.
Authorities have said Goyette was apparently upset about losing more than $60,000 in Washington Mutual Bank stock he held when the Federal Deposit Insurance Corporation took it over in late September. The next day, the FDIC sold the bank's deposits, branches and loan portfolio to JPMorgan Chase & Co. for a small fraction of their combined value, documents show.
Prosecutors said Goyette sent some of the 64 letters in October to Chase Bank locations in Colorado, Arizona, Illinois, New Jersey, Oklahoma and Ohio. He sent others to the FDIC's offices in Arlington, Va.; Washington, D.C.; and Dallas; and to thrift supervision offices in Chicago; Daly City, Calif.; Jersey City, N.J.; Washington and Irving, Texas.
Each letter contained a threat that the person breathing the white powder inside would die within 10 days.
A 65th letter, sent to the headquarters of JPMorgan Chase in New York City, contained no powder but included a threat of the "McVeighing of your corporate headquarters within six months," prosecutors said. Timothy McVeigh was the domestic terrorist executed for bombing a federal building and killing 168 people in Oklahoma City in 1995.