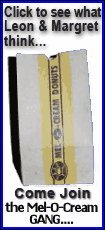 Kaufman died Saturday of heart failure at 92, said Laura Howard, spokeswoman for McSweeney's Publishing, which published his novel "Bowl of Cherries" in 1997.
Kaufman was nominated for Oscars for "Take the High Ground!" and "Bad Day at Black Rock."
His credits also include "Never So Few," "The Warlord," "The Klansman" and "Convicts 4," as well an episode of the TV series "Police Story" and the TV movie "Enola Gay."
In 1949, he wrote the screenplay for the short film "Ragtime Bear," which featured the first appearance of Mr. Magoo.