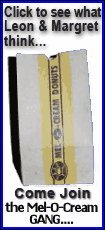 Now, he has a little fun with it.
"I went to the doctor's office," the 37-year-old contractor said. "My name is Rip Van Winkle, and I can't sleep."
He owns and operates Rip Van Winkle Residential Contract and Repair, and prides himself on being able to fix almost anything.
Van Winkle said he would never change things.
"It's cool, because you get a chance to be yourself," he said. "How many Rip Van Winkles do you meet?"
___
Information from: Gazette-Times, http://www.gtconnect.com/