Verle Auxier, Kiwanis, West Lincoln-Broadwell PTO, The Cell, LCHS speech team dinner, Lucky Six winners and Rotary baseball tickets make the Close Up
By Mike Fak
[March 20, 2009] Verle Auxier to retire from ALMH. Verle Auxier will retire on Friday, March 20, after a 31-year career at Abraham Lincoln Memorial Hospital.
Verle works in environmental services at the hospital. His wife, Lori, continues to work in that same department at ALMH.

The hospital will hold a celebration in honor of Verle on Friday from 2-4 p.m. in Conference Room A (lower level). Cake and punch will be served.

Verle earned the designation of Employee of the Month twice during his career at ALMH – once in August 1995 and again in December 2005.
---

Despite what you might have read, the Lincoln Kiwanis is having their ham and bean lunch this Saturday at the American Legion Post 263. The lunch includes corn bread, dessert and drink.
The price is $7.00 (children under 6 free). All proceeds go to fund youth programs. The time is 11:00 am-2:30 pm.
---

The PTO at West Lincoln-Broadwell is having a pancake and sausage breakfast this Saturday, March 21st, from 7:00AM- 12:00PM! The cost of the breakfast is $5.00 a person, all you can eat. There will also be basket raffles too!
---

The Cell invites the public to come out and eat at the Lincoln Pizza Hut on Wednesday, March 25, 5-8 pm, and 20 percent goes to help The Cell and their all-age alternative drug- and alcohol-free events happening in Lincoln. As you come through the door, get your coupon from the volunteers. Turn in your coupon with your receipt.
---

The Lincoln Community High School Speech Team and Group Interpretation team invites the public to a benefit dinner Tuesday, March 24, at the Maple Club.
State medalists Cody Follis, Kaylyn Engelhardt and Todd Schumacher will be performing their selections from the speech team, and the Group Interp performance of "Charlotte's Web" will be featured after the delicious dinner.
Tickets are $17.50, which includes salad, stuffed chicken breast meal, dessert and performances.
Doors will open at 6 p.m., with dinner beginning around 6:30 p.m. Performances are scheduled to begin at 7:30 p.m.
For more information, please contact Jennifer Keith at jkeith@lchs.k12.il.us or 217-732-4131, ext. 264.
---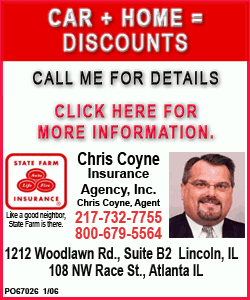 This month's Holy Family Lucky Six Drawing winners are:
| | | |
| --- | --- | --- |
| Amount | Winner | Seller |
| $1,000 | Teri Fink | Jeanne Handlin |
| $500 | Mary Kay Roate | Colleen Roate |
| $300 | Bud Moos | Carolyn Gober |
| $100 | Sondra Heidbreder | Mary Ellen Thornton |
| $100 | Athena McIntosh | Regina Board |
| $100 | Krystal Salvator | Carolyn Gober |
---

Lincoln Rotary Club is selling tickets to the Cubs vs. Cards matchup on Saturday, April 25, at 2:45 P.M. in St. Louis. Price range - $44.00 seats for Outfield Loge Box or $37.00 for Pavilion or Outfield Box. Tickets are available to anyone - you do not have to be a Rotarian to purchase tickets. Please spread the word and help sell tickets to your family, friends, co-workers, etc.!
The deadline to order tickets is Monday, March 30. Tickets will be available for distribution two weeks before the game. To order tickets or for more information please contact Michelle Bauer at Lincoln College or the Chamber office. We ask that you pay for your tickets when you place your order. Checks can be made out to Lincoln Rotary Club.
---
Got a good piece of news, information or something that we can all brag about? If you do, e-mail Mike and let us tell everyone about it. Plus you can win cash. Every submission, whether we use it or not, will get your name in the "Close Up" grab bag. At the end of the month we will draw a name and someone will get $25.00 just for dropping us an e-mail. If you wish, we will be happy to donate your winnings to the organization of your choice. You can contact Mike at mikefak@lincolndailynews.com.
[By MIKE FAK]