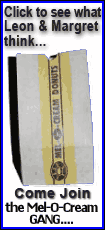 The dozens of letters released Friday had been forwarded to U.S. District Judge Denny Chin before Madoff confessed March 12 to defrauding thousands of investors of billions of dollars.
The letters were released only after WNBC-TV petitioned the court to unseal them. Prosecutors redacted the names on all but a few.
After Madoff's arrest in December, "I lost 30 pounds, could not swallow food and lived in fear that my wife and children would be left penniless," wrote Richard B. Shapiro, an investor from Hidden Hills, Calif. He wrote that he lost everything he had saved for three decades.
"Can you imagine just waking up one day and finding out someone had stolen all of your life's work and savings?"
Others pleaded with Chin to punish Madoff severely and make sure his family was left destitute as well.
"Unlike the thousands of destitute victims, like my parents, there should be no pieces for Mr. Madoff and his family to pick up," Lawrence Goldstein wrote on behalf of his parents, Allan and Ruth Goldstein.
One e-mail urged the judge not to accept a plea bargain, saying: "Don't make a deal with the DEVIL!" The guilty plea to 11 charges came without a plea deal.
In jailing Madoff after his guilty plea, Chin had cited Madoff's age and said the possibility of life in prison heightened his incentive to flee. Madoff faces up to 150 years in prison at his sentencing, set for June 16.
"The defendant's age and his exposure to imprisonment are undisputed, and the court did not err in inferring an incentive to flee from these facts," the three-judge appeals panel wrote.
"Moreover, the district court's finding that the defendant has the means - and therefore the ability - to flee are not clear error," the judges said in the four-page ruling. "The defendant has argued that all of his assets are accounted for and are inaccessible to him; however, the district court was not required to treat this defendant's financial representations as reliable."
The court noted that Madoff has a residence abroad and "had had ample opportunity over a long period of time to secret substantial resources outside the country."
The court appeared to agree with an argument Assistant U.S. Attorney Marc Litt had made in January, when he tried to have Madoff jailed before his guilty plea by saying he posed a danger to the community because of the harm he could cause financially.
Litt did not press that argument before the appeals court on Wednesday, but the panel of judges raised it anyway.
"We note that there was substantial evidence in the record to support a finding by the district court that bail should be denied to the defendant because he had failed to prove by clear and convincing evidence that he does 'not ... pose a danger to the (pecuniary) safety of any other person or the community if released,'" they wrote.