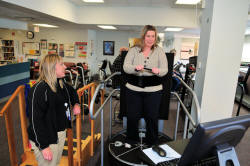 ALMH rehab equipment featured on NBC's 'ER'
Send a link to a friend
[March 24, 2009] If you tuned in to the NBC hit show "ER" on Thursday, you might have noticed a scene featuring an unusual piece of equipment that has now made its home at Abraham Lincoln Memorial Hospital.
(Picture: Alyssa Schmidt, a physical therapy assistant, works with ALMH patient Kim Escobedo, who was using the Proprio 5000 as part of her rehabilitation therapy.)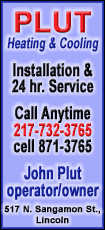 The Proprio 5000, seen in a flashback scene involving Dr. Neela Rasgotra (Parminder Nagra) and Dr. Ray Barnett (Shane West), was shipped straight from Hollywood and delivered to Lincoln after its use as the main prop in a 45-second scene in a physical therapy clinic.

"We have been doing all kinds of testing, training and therapy on it. It's a piece of equipment that can benefit about 90 percent of our patient population," said Todd Mourning, manager of rehabilitative services at ALMH. "This dynamic balance machine can help patients of all ages, as well as provide excellent training for athletes of all skill levels."

Developed by Decatur-based Perry Dynamics and sold nationally, the Proprio machine assesses, measures and trains neurologic, orthopedic or vestibular issues affecting dynamic stability, posture, strength and mobility. It features a large, round platform hooked up to a computer that offers various programs that change the speed and direction of the platform. Patients then react and anticipate the movement, training their balance and proprioception.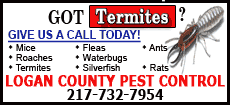 Joe Perry, president of Perry Dynamics, said someone doing research for "ER" came across his equipment online.
"They were looking for rehab equipment and wanted something really cool that looks realistic," Perry said.
The actors using the machine were not the main focus of the scene, he said, but served as a backdrop for a scene that is part of the climax in the episode. Shane West left "ER" in 2007 but is among several actors who returned for appearances in "ER's" 15th and final season.
Perry accompanied the machine to the set and watched the filming. He helped the actors understand how the Proprio 5000 works, and then they did about 20 takes, shooting from various angles.
"Now I want to be an actor," Perry said. "It made me really start to look at television from a whole new perspective."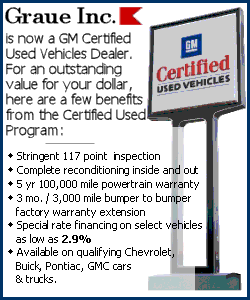 Mourning said he couldn't be more pleased that ALMH now owns this versatile piece of equipment.
"The Proprio 5000 can be used on persons with balance impairments, neurological conditions and low back pain. It can be used to help patients recover from surgery and in athletic rehab and training," he said. "It uses ultrasonic technology to monitor the patient position at all times, and a skilled physical therapist is also watching patients' movements to determine faults that happen during testing."
Safety features are built into the machine, and all therapists at ALMH are trained in use and safety on machines, Mourning added.
The Proprio 5000, which is owned by many NFL and college teams and several notable rehab hospital clinics, will also be incorporated into SportsCare's "power plus performance" enhancement plan for junior high, high school and college athletes.
"By purchasing this equipment, ALMH administration made a strong investment in our patients and the community," added Mourning. "We will be able to help people now to a much greater degree than we were in the past."
[Text from file received from Abraham Lincoln Memorial Hospital]