Lake Fork biscuit bakers, food drive at health fair, weather spotters class, Hunting Heritage Super Fund Banquet and Lincoln College bachelor's degree program in the Close Up
By Mike Fak
[March 27, 2009] The Lake Fork Community Board biscuit bakers are busy baking biscuits for this year's annual Consignment Auction which will be this Saturday at the Lake Fork Community Center. Lake Fork is located southeast of Mt. Pulaski on Route 54.
Board member volunteer Dan Phillips says that they will begin serving breakfast at 7 on Saturday morning and will wrap it up around 4 that evening.

The community center board offers a menu of pancakes and sausage, biscuits and gravy, or if you're really hungry, both, along with beverages.

Consignment items for the auction are being taken now, and the group hopes to have a good turnout in spite of possible cold, snowy weather. All the proceeds go to support the Community Center building and activities.

Several area auctioneers volunteer their time and talents to this event and the auction will be running multiple rings throughout the day.

Phillips says that the auctions have been known to wrap up as early as 2, so go early, stay long, and eat well!
---

There will be a food drive in conjunction with the community Health Fair on Saturday April 4, 9:00 a.m. - 2:00 p.m., at the Lincoln Park District Sports Complex. Attendees are asked to bring food donations for the local food pantries. Donations will be collected by United Way of Logan County and can be dropped off at their location at the health fair.
---

There will be a weather spotters class on Tuesday March 31 at the Lincoln Christian Church Fellowship Hall. It begins at 6:30 pm and anyone interested in being a weather spotter is invited to attend.
---

Hunting Heritage Super Fund Banquet on Sunday, March 29. The Salt Creek Ridgerunners National Wild Turkey Federation chapter invites the public to their 12th annual event. For tickets you can call Mike at 217-737-5509. The event will be at the VFW Hall on Fifth Street with the hall opening at 5:30pm and dinner served at 7:00pm.
---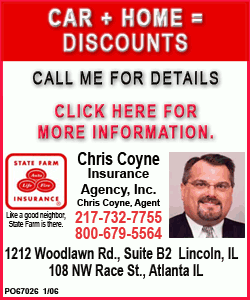 On Tuesday, March 31 there will be another information session on the Accelerated Bridge to Education program at Lincoln College. The meeting will be in the Alumni Room, Meyer-Evans Student Center at Lincoln College, between 6-7 pm.
The program is for adult learners interested in completing their bachelor's degree. With Lincoln College's Accelerated Bridge to Education program, you can earn your bachelor's degree by attending class just one night a week. Degrees are offered in business administration, liberal arts and health services administration, as well as an 18-credit-hour dental services management certificate. To hear more about the program, attend the information session. RSVP to abeinfo@lincolncollege.edu.
Visit www.abe.lincolncollege.edu.
---
Got a good piece of news, information or something that we can all brag about? If you do, e-mail Mike and let us tell everyone about it. Plus you can win cash. Every submission, whether we use it or not, will get your name in the "Close Up" grab bag. At the end of the month we will draw a name and someone will get $25.00 just for dropping us an e-mail. If you wish, we will be happy to donate your winnings to the organization of your choice.
You can contact Mike at mikefak@lincolndailynews.com.
[By MIKE FAK]