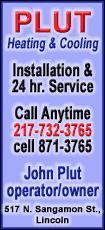 The Chicago Democrat says he is committed to opening them by June 30, even though his proposed budget calls for leaving them closed.
Former Gov. Rod Blagojevich closed a dozen historic sites and state parks last year to help fill a budget deficit.
After Quinn became governor, he reopened the parks and said he would do the same for the historic sites, including the farm owned by Abraham Lincoln's family.
Quinn now says money for reopening them will come from merging the agencies that oversee natural resources and historic sites.
Among area historic sites affected are the Dana- Thomas House in Springfield and the Judge David Davis Mansion in Bloomington.
[Associated Press; LDN staff]
Copyright 2009 The Associated Press. All rights reserved. This material may not be published, broadcast, rewritten or redistributed.