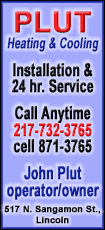 Bowers, the daughter of Fred and Louise Hild, was born in her grandmother's Mount Pulaski farmhouse. She has four children: Jan, Rebecca, Phillip and Mark.

A graduate of LCHS, Bowers has been in medicine her entire life, starting with a stint at Brokaw Hospital. For almost 30 years she was Dr. Williamson's nurse before retiring into her next roles in the community.

At an age where most people would be slowing down, sitting at home waiting for friends or family to visit, Bowers will have none of that. She stays active and helps by doing a service to the community that is essential, sometimes even lifesaving, and she does it gladly with no thought of compensation outside of the good deed itself. Bowers is into her second decade of trying to help individuals keep up their health through preventive blood pressure screenings.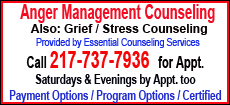 Currently Bowers spends most of every Tuesday at Abraham Lincoln Memorial Hospital checking blood pressures of as many as 60 individuals in a given day. A highly qualified nurse, Bowers offers this free service to help residents keep a check on their blood pressure, which saves them from having to make appointments with their doctors.
Over the last decade she has become friends with many of her patients and has a strong knowledge of their BP history. She even stays informed when there is a change in medication that might cause a change in a person's BP. "For many, high blood pressure is a problem, and it is very important to always have it monitored to make sure everything is all right," Bowers said.
She has even had cases where a person's blood pressure was cause for alarm. "In those cases, I take the person right on down to see the doctors," she said. "Blood pressure problems are serious and need to be addressed right away."
The hospital is appreciative of Bowers and her service to the community. Marty Ahrends, executive director of community development at ALMH, wanted to comment on Bowers' work at the hospital. "Charlene's service is available to anyone who needs regular monitoring of their blood pressure, as well as those who are just curious," Ahrends said. "She is passionate about what she does and believes that keeping busy is what has kept her in good health and humor. I think it is time she is recognized in the community."
Besides her weekly visit at the hospital, Bowers offers free blood pressure screenings every fourth Friday at The Oasis, and she makes regular trips for BP monitoring at Lincoln Christian Church and at the Christian Nursing Home.
In addition, Bowers is also active in the hospital auxiliary and is on the new hospital committee to help inform and educate the community on what the new hospital will mean for the community.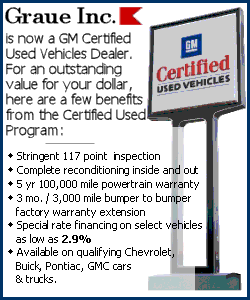 Although almost 80, Bowers is not stuck in the past when it comes to the field of medicine. "I can't wait for that day (when the new hospital opens)," she said. "It will be such a wonderful place with all the latest in technology to help people. And everything will be on one level for patients."
As Bowers went about her work at The Oasis, she was all business. When checking someone's blood pressure, she did it in both arms. But when there was a break, she and some of her patients sat around and enjoyed each other's company. Ahrends mentioned that Bowers' work at the hospital was much the same. The time there also serves as a social activity for many of those who get their blood pressure checked.
Bowers' positive energy has an infectious way of making a person feel good about the day. "I couldn't imagine staying at home," she says. "I enjoy what I'm doing and I enjoy visiting. Over the years, many of the people whose blood pressure I take have become good friends, and we visit."
Bowers said that she also makes some house calls for those who can't get out to see her. "If someone needs help, they can call me," she explained.
It is this total commitment to helping others that earned her praise from John Guzzardo. "She is such a sweetheart," he said. "What a wonderful person. She would do anything for anybody who needed her help. I have known her my whole life and I can't say enough good things about her."
With amusement, Guzzardo made mention that Charlene also makes the very best coconut creme pies for Harvest of Talents, and he always buys those. "Tell her how great I said her pies are and she will probably make one for you. That's the kind of person she is," John laughed.
Besides making pies for Harvest of Talents, Bowers has also been in charge of Lincoln Christian Church's infants-through-toddlers nursery for the past 35 years. "I just love doing that," she said.
It becomes obvious that whether a person is 90 years old or 9 months old, if Charlene can help, she will. It is this lifetime of applying her skills and ageless human compassion in our community that makes Charlene Bowers our Personality of the Week.
[By MIKE FAK]