Library notes

Send a link to a friend

[May 01, 2009] Now on the library's website are links to NoveList and NoveList K-8. These are online databases of fiction titles -- NoveList for adults and NoveList K-8 specifically for elementary and middle school children. Logging in with your Lincoln Public Library District card number will let you search for books by author, title, series or plot description. Click on "Author Read-alikes" to help you find authors who write in a similar genre that you enjoy reading. Also investigate "Award Winners," "Book Discussion Guides" or "Feature Articles" for a wealth of information. You can even establish a file to keep lists of titles for future reading, as you are sure to find more titles than you can read at one time.

The Lincoln Public Library is located at 725 Pekin St., with adult nonfiction and reference materials in the historic Carnegie Building. In the Annex Building directly behind are adult fiction and the Youth Services Department. All library events are free and open to the public. On the Web, visit www.lincolnpubliclibrary.org.

Hours are Mondays, Wednesdays and Fridays, 9 a.m.-5 p.m.; Tuesdays and Thursdays, 9 a.m.-7 p.m.; and Saturdays, 9 a.m.-1 p.m. Phone 217-732-8878 for adult services and 217-732-5732 for youth services.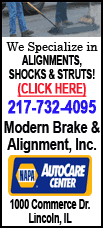 Butterflies are here
The butterfly larvae have arrived, and they are busy spinning their chrysalises. Come see them change and hatch into beautiful painted lady butterflies. They are "at home" in Ms. Lou's window.
YAC meeting
The Youth Advisory Council is open to tweens and teens, sixth grade and up. The next meeting is May 13 at 3:30 p.m. in the Annex Building. They will be brainstorming and planning summer events. New members are always welcome.
Book bags for sale
The library has attractive, sturdy book bags for sale for $1.25 each. The bags are 100 percent recyclable material and are perfect for books, groceries and other errands. They can be purchased in either building.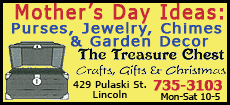 Miss Lou's blog
Louella Moreland, youth services librarian, has a blog that can be found through the library website. She will discuss new books, introduce library programs, take polls and ask for your ideas. Check it out.
Holiday closing
The Lincoln Public Library District will be closed May 25 in observance of Memorial Day.
The library's Summer Reading Program will start with sign-up week June 1-6. This year's theme is "Read on the Wild Side!" Registration involves setting a reading goal (for ages 5-12) and playing our "Safari Games," available during sign-up week. If unable to register that week, just come in as soon as you can to get started. Planned activities include reading for benchmark prizes, story time, craft time and Thursday morning entertainment. The program ends with an awards program on July 30, when children who have reached their reading goal receive a free T-shirt. There are appropriate levels for children 6 months through teens. The teen program runs a slightly shorter schedule of June 8-July 18. Plan to join in the fun of the popular Summer Reading Program.
Live Homework Help
Log on to www.lincolnpubliclibrary.org to get help from a live tutor. The one-on-one help is available to kindergarten through adult learners in math, science, English, social studies and writing. Use your Lincoln Public Library card number to log in.
[Text from file received from Marlene Perry, Lincoln Public Library]