Jefferson Street Christian Church, Immanuel Lutheran blood drive, Grand March, development partnership, area plant sales, Lincoln MS Walk and Airport Daze make Close Up
By Mike Fak
[May 01, 2009] Beginning Tuesday, May 5, Jefferson Street Christian Church will host Dave Ramsey's Financial Peace University, a 13-week course designed to help people beat debt and build wealth. The class will last from 6:30 to 8:30 p.m. each week. The cost of the class kit is $100. Any individual or family that purchases the kit will have a lifetime membership to Financial Peace University and will be eligible to take any other FPU class anywhere in the country for free. Those interested in taking the class are encouraged to call Jefferson Street Christian Church at 217-732-9294 for more details.
---

To help ensure an adequate blood supply for local hospitals, Immanuel Lutheran Church is sponsoring a blood drive at the Lincoln Masonic Center, 2022 N. Kickapoo St. in Lincoln, on Monday, May 4. The hours of the blood drive are noon to 6 p.m. For your convenience, please call Jessica to sign up (toll-free) at 1-866-GIVE-BLD, ext. 6814, or schedule an appointment online at www.cicbc.org. Walk-ins are also welcome and truly appreciated.
---

The annual Grand March on Saturday, May 2, starting at 6:30 p.m., honors prom attendees from Lincoln Community High School. In a televised event, attendees assemble at the Logan County Courthouse and are introduced to the community prior to the prom.
---

The Lincoln & Logan County Development Partnership will present a small-business startup seminar at Illini Bank in Elkhart on Saturday, May 2, from 11 to 11:45 a.m. Joel Smiley, executive director of the Lincoln & Logan County Development Partnership, will discuss:
How do I form a business plan?

How do I write a budget?

What are some financing options?

What is the business incubator in Logan County?

How do I choose a location?

What outside resources are there?

Are there any incentives?
---

Plant sales in community this weekend. Annual plant sale by Elkhart Needs and Goals will be at Elkhart Village Hall. Plant sale hours: Friday, noon-6 p.m., and Saturday, 8-11 a.m. Logan County Master Gardeners will have a plant sale at the Special Events Building at the fairgrounds on Saturday, 9 a.m.-noon. No early sales. Zion plant sale, 1600 Woodlawn Road, is Saturday from 9 a.m. to 2 p.m.
---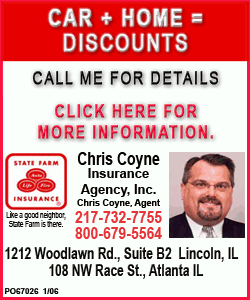 The Lincoln MS Walk is a fundraising event Sunday to create a world free of multiple sclerosis. Get a team together, gather some donations and come to the walk. Music, prizes and a silent auction are part of the festivities. Walkers turning in $100 receive a T-shirt. The walk is at Kickapoo Creek Park: 12:30 p.m. check-in; team pictures at 1 p.m.; walk begins at 1:30 p.m.
---

Heritage in Flight Museum invites you to come out during the third annual Airport Daze and experience what general aviation is all about. This free event will be on Saturday from 11 a.m. to 4 p.m. at the Logan County Airport. Displays and activities scheduled for the day promise to hold lots of interest and fun for the whole family.
---
Got a good piece of news, information or something that we can all brag about? If you do, e-mail Mike and let us tell everyone about it. Plus you can win cash. Every submission, whether we use it or not, will get your name in the "Close Up" grab bag. At the end of the month we will draw a name and someone will get $25 just for dropping us an e-mail. If you wish, we will be happy to donate your winnings to the organization of your choice.
You can contact Mike at mikefak@lincolndailynews.com.
[By MIKE FAK]