Turning a passion for cars into a business
Bex Automotive providing quality pre-owned cars in Lincoln

Send a link to a friend
[May 01, 2009] Tim Beck has been in love with cars his entire life. He has owned "a lot" of cars in his years. Beck recently brought life again to the old Amoco gas station at the corner of Logan and Broadway, just off the square in Lincoln. Admittedly, three of the late-model vehicles on the lot are Beck's personal cars, helping him slowly grow an inventory as well as a business.
Born and raised in Atlanta, Beck has been a Lincoln resident for 18 years and explained how he came to try his hand at entrepreneurship in Lincoln with his new dealership, Bex Automotive.

He had worked for FedEx for 15 years but was a night driver and decided he wanted to see more of his two girls, Tori and Jenna, growing up. The new business with more normal hours will allow him that.

He also wanted to see if he could take his passion for cars and turn that into his own business.

Beck is starting out small, currently having seven vehicles on the lot, and intends to be highly selective of what he offers for sale. "I don't want to compete with the big boys (the other dealerships in town), so I will offer cars they normally don't offer," Beck noted.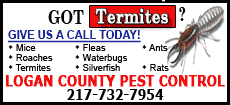 Primarily he will stock 2004 and 2005 cars and trucks with price tags under $10,000, and he promises to back his vehicles. "I know these cars, and if there is something wrong with one of them, I will fix it. I want to build a customer base, and that means taking care of customers. I'm also lucky that I have a really good warranty company," Beck said. The warranty company offers several plans that allow for different levels of mileage or time, depending on the owner's driving habits.
Beck's insurance includes being able to offer auto repair, and he will make that decision whether to open his business for auto repairs or not once his business gets off and running.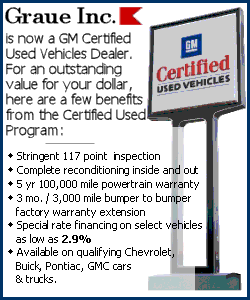 However, he does intend to offer detailing for car and truck owners this summer.
Beck and his family really enjoy Lincoln, and his decision to locate here is based on wanting to thrive as both a family and a businessman in the town he and his family call home. Tim left FedEx to open his own business, and his wife is supportive, "She's behind me 100 percent," he said.
Now, as the young man settles in at his new business, he has high hopes the community will be as supportive as well.
Bex Automotive's hours are Tuesday through Saturday, 10 a.m. till 6 p.m. "But someone can call me if they need to talk about a car," Beck offered.
[By MIKE FAK]
Reminder: Elkhart business startup seminar Saturday