Glass recycling, Zonta, LCHS Class of '89, Spring Family Ride and 'Pirates of Penzance' in this Close Up
By Mike Fak
[May 08, 2009] Recycling this Saturday through the efforts of Logan County Joint Solid Waste Agency, Lincoln Junior Woman's Club, Saint-Gobain Containers and Lincoln Wal-Mart. The recycling is open to the public at the Wal-Mart Supercenter parking lot between 9 a.m. and noon.
Only container glass (must have contained either a food or beverage) will be accepted. Clear glass, amber, green and blue will be accepted. Unacceptable items include ceramics, dishware, light bulbs, fluorescent lights, window glass and mirrors. Glass is accepted only on designated collection dates.

The Logan County Joint Solid Waste Agency does not accept glass at any of its recycling sites. For safety reasons, no broken glass will be accepted.

Glass preparation: Rinse containers. Remove all plastic or metal caps and rings from the container. Labels may be left on containers. The Logan County Joint Solid Waste Agency reserves the right to refuse any glass that does not meet preparation guidelines.
Collection will be canceled in case of inclement weather.
---

Zonta Club will meet on Tuesday, May 14, at 6:15 p.m. at the American Legion. Officers and new members will be installed. Members should contact Judy Awe at 732-4758 before 7:30 a.m. on Monday, May 11, if they are unable to attend.
---

LCHS Class of 1989 is currently trying to get classmates to join their website.

They have tentatively planned the following festivities

Aug 7-9: http://www.classcreator.com/
lincoln-il-lincoln-community-1989/
member_ReunionSignup.cfm.
---

Spring Family Ride for all you bicyclists out there will be Sunday, May 17, with a rain date of May 31. The ride is in support of dedicated bike paths and recreational trails in Logan County.
Schedule:
12:30–1 p.m. registration
1 p.m. prize drawing
1 p.m. RIDE!
Register and start:
721 Wyatt Ave., YMCA Activity Center
Routes:
6.6 miles -- City, Kickapoo Park and back
9-12 miles -- City, north on county roads, return, optional Kickapoo Park
28-plus miles -- Add loop to Lawndale and return, plus Kickapoo Park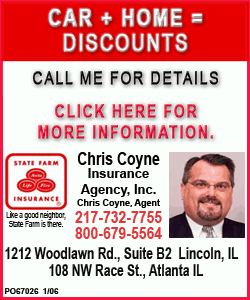 Rest stops, water stops:
Wyatt Avenue YMCA Center
Kickapoo Creek Park
Lawndale Tap or post office
For more info, see brochure (PDF).
The event's sponsors are Lincoln Area YMCA, Wal-Mart, Bassi Construction, Bike-Tek, Fitness Balance and Puritan Springs.
---

Don't forget, mates, if you have a song in your heart, that the auditions for "The Pirates of Penzance" are this Saturday, May 9, at Lincoln Christian Church, 204 N. McLean St., from 9 a.m. till noon. Those auditioning should come prepared to sing a song. An accompanist will be provided. A cold reading from the script will be part of the audition process.
This show is filled with beautiful music, fast-paced action and hilarious dialogue, and it's a great evening of fun for the entire family. All proceeds after expenses will be divided between Together for Lincoln and Harvest of Talents for World Hunger.
For more information, contact Tim Searby at 217-732-7618.
---
Got a good piece of news, information or something that we can all brag about? If you do, e-mail Mike and let us tell everyone about it. Plus you can win cash. Every submission, whether we use it or not, will get your name in the "Close Up" grab bag. At the end of the month we will draw a name and someone will get $25 just for dropping us an e-mail. If you wish, we will be happy to donate your winnings to the organization of your choice.
You can contact Mike at mikefak@lincolndailynews.com.
[By MIKE FAK]