Swim lessons are filling up fast, so register your child today for their instructional level. YMCA swim lessons are offered mornings and evenings at the Lincoln Elks pool in two-week-long sessions.

Papermaking art class has been rescheduled for May 23 at the Y Activity Center from 9:30 to 11 a.m. Space is limited and the deadline to register is May 15 in order to avoid fee increase.

Register now for YMCA Summer Art Camps. Art Camp 1 will be June 22-25 for an adventure into "Storybook Art." Participants will learn about picture book illustration through hands-on activities such as drawing, painting, collage, assemblage and construction. Art Camp 2, July 6-9, brings back a participant favorite: clay. Participants will pinch, coil and mold clay into amazing creations. There will be new projects each day, including a try at a real pottery wheel. Register early to avoid fee increases.

Atlanta Sports Camp is a program designed to teach participants the skills necessary to play various sports, including soccer, basketball, baseball and football. This camp is for children 5 years through fourth grade and is at the Atlanta Park. Register before June 15 to avoid a fee increase.

June 16 is the start of the YMCA Fieldtrip Blast. This exciting summer program is for children in second to fifth grade, with the first field trip going to Dragonland Water Park in Pekin. Member and nonmember rates apply, with registration deadlines the Friday before each field trip. Space is limited to 13 participants. More exciting trips are planned every Tuesday throughout the summer.

Paintball begins on May 16 and is for children 9-15 years old. The program takes place at the Y Activity Center on Saturdays from 10 a.m. to noon.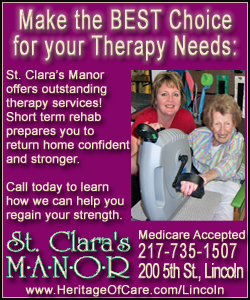 Sports of All Sorts is a four-day camp for children ages 4-5 years. Participants will meet at the Y Activity Center to learn the basics of soccer, baseball, flag football and basketball. Register by June 1 to avoid a fee increase.
YMCA Girls Softball Clinic will be June 22-25 at Lincoln Community High School. Brandon Brosamer, LJHS coach and president of Lincoln Chill, will teach girls age 8-10 the basic fundamentals of softball. Register by June 8 to avoid a fee increase.
YMCA Girls Basketball Camp will be at LJHS June 15-18. Sessions are 10-11 a.m. for first- to third-grade girls and 11 a.m.-noon for fourth- to sixth-grade girls. Lincoln College coach Carol Wilson will teach the girls how to dribble, pass and shoot as well as defenses. Register by June 1 to avoid a fee increase.
Check next week for the winner of the third annual Cow Chip Bingo fundraiser.
[Text from file received from Lincoln Area YMCA]