Ryan Curry, Lincoln FFA, Humane Society, Lincoln Public Library and Lincoln Park District all make Close Up
By Mike Fak
(Pictured: Ryan with his wife, Kimberly)
[May 12, 2009] Ryan Curry recently was awarded Special Olympics Coach of the Year for District 10, which includes much of central Illinois. Ryan not only works hard at his businesses, but he also puts a lot of time and effort into volunteering in the community. He has been the Special Olympics head coach for about three years now and has expanded their sports programs, fundraising and community awareness. Ryan works two jobs; helps his wife, Kim, raise their two (almost three) children; and somehow finds time to be the head coach of four Special Olympics sports: basketball, softball, track and bowling. He is an excellent coach who has the respect of all of the athletes. The Close Up wants to take this opportunity to congratulate Ryan for all he does with those most special of athletes and feels there is no one who was more deserving of this award.
---
The annual Lincoln FFA Pancake and Sausage Breakfast will be held Sunday, May 17, from 7 a.m. till 2 p.m. at the Lincoln Community High School cafeteria. The annual event is a fundraiser for the Lincoln FFA chapter. Breakfast is $6 adults and $3 for ages 3-10, with those under 3 years free. Please join the Lincoln FFA chapter for this event.
---

The Humane Society of Logan County's purse sale, bake sale and cook-out is Saturday, May 16. Kroger will be the scene for the Hounds & Handbags Sale, Bake Sale and Cook-Out. Come out, support HSLC, eat lunch, take home a sweet or two and a beautiful purse. What more could you want???
A reminder that the society is still having their cat sale through the end of May: You can adopt two cats for the price of one plus $6 (rabies registration). Two people can split the cost and each adopt a cat!
---

YAC meeting at Lincoln Public Library. The Youth Advisory Council is open to tweens and teens, sixth grade and up. The next meeting is May 13 at 3:30 p.m. in the Annex Building. They will be brainstorming and planning summer events. New members are always welcome.
---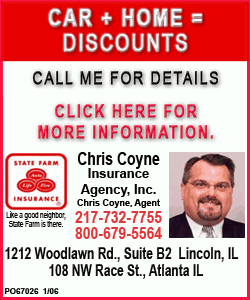 The Lincoln Park District is now taking registrations for summer programs. Summer brochures are available at the front and back desks. To view these programs and more at www.lincolnparkdistrict.com, click on the "Programs" tab and then click on the "Summer Brochure" PDF file. Call 732-8770 between 8 a.m. and 6 p.m. for additional information.
Starting Tuesday, May 26, 7 p.m. -- Penny Pinching

Week 1: How to Garden -- From Pots to Plots

Week 2: Saving on the Home Front

Week 3: Financial Advice

Week 4: Nutrition and Exercise
Tuesday, June 2, 6:30 p.m. -- Free Fishing Clinic
Saturday, June 6, 9 a.m. -- Free Fishing Derby, sponsored by D.A.R.E
Monday-Friday, June 8-12 -- Spanish lessons for youngsters
Tuesday, June 9, through Friday, June 12, 9 a.m. -- Tennis lessons
Starting Tuesday, June 9, for a four-week series, 6:30 p.m. -- Spanish lessons for adults
Starting Saturday, June 13, for a six-week series, 8:30 a.m. -- Tee ball
---
Got a good piece of news, information or something that we can all brag about? If you do, e-mail Mike and let us tell everyone about it. Plus you can win cash. Every submission, whether we use it or not, will get your name in the "Close Up" grab bag. At the end of the month we will draw a name and someone will get $25 just for dropping us an e-mail. If you wish, we will be happy to donate your winnings to the organization of your choice.
You can contact Mike at mikefak@lincolndailynews.com.
[By MIKE FAK]