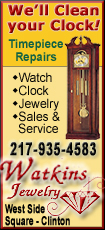 It is this "all over the place," helping the community wherever she can, that makes her this week's personality.

Born in Fruitland, Mo., which is near Jackson, Marty was the only child of Joe Robert and Marie Hoffmeister. A graduate of Jackson High School in 1989, Marty went on to earn degrees in ag journalism and ag economics from the University of Missouri.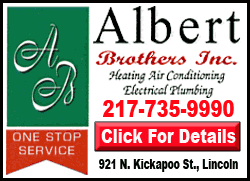 A farm girl, Marty was very active in 4-H, directing a lot of her early activities to public speaking. While in college, she was the state's national 4-H ambassador. An experience back in 1994 is one that Marty enthusiastically wanted to share. Backpacking across Germany, she lived with seven different families during a visit across the ocean. She said it was a great growth experience: constantly meeting new people, learning new schedules and new foods as well. Ahrends had a chance to view wind farms long before they became a source of debate and fruition in Logan County, having a chance while in Germany to climb up into one of the country's wind turbines to get a sense of how large they are.
After graduating from college, Marty worked for a time for Dow AgroSciences in Bloomington. It was while living in Bloomington that she met her husband, Les, who now works for Spraying Systems Inc. Marty laughs when she says she met her husband at the Fairbury Fair. She and Les now have two children; Joe is in fifth grade and Caroline in kindergarten at Zion Lutheran School.
In December of 2002, Ahrends took a position at ALMH and currently is the executive director of community development for the Abraham Lincoln Healthcare Foundation. Explaining her job in a few sentences, Ahrends said: "I help people turn their philanthropic dreams into a reality. I match a person's visions with the right opportunities."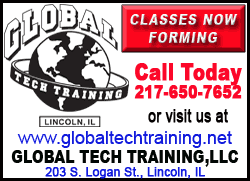 When word spread around ALMH that Marty was going to be our Personality of the Week, Dolan Dalpoas, president and chief executive officer of ALMH, wanted to comment on Marty's efforts. "Abraham Lincoln Memorial Hospital and the Abraham Lincoln Healthcare Foundation are fortunate to have someone as talented as Marty Ahrends helping them to fulfill their mission," he said.
Although Ahrends keeps herself busy with her job, she still makes time to get involved in several other community organizations. Several people offered the comment about Marty on how highly organized she is and thus she can accomplish more than most others. It is this organizational skill, coupled with communication skills and a passion for whatever she does that had many community individuals offering up their praise for Marty.
Besides using her talents at ALMH and ALHF, Ahrends helps several other worthy endeavors. She is active with Zion Lutheran School and church fundraisers. But she has also taken time to help the school's speech team students learn the passion for public speaking that she learned growing up. Ahrends understands how speaking skills developed at an early age can help a young person throughout their life. "When you give them a script and something clicks, you can just see them blossom," she said.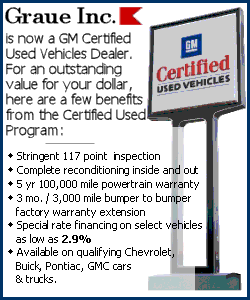 Ahrends is an active, involved member of Rotary and received kudos from Michelle Bauer on behalf of the membership: "Marty is a strong member of this community because she is passionate about what makes Lincoln great: strong family, great education, compassionate health care and service above self."
If Ahrends didn't have enough to do, she recently became involved in local politics, and she said she thoroughly enjoyed being a co-chair of the Keith Snyder mayoral campaign. "I walked through the neighborhoods of Lincoln during the campaign, and it gave me a much better feel for the community," she said.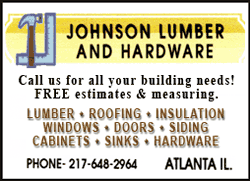 And, having a feel for this community is something Ahrends appreciates as she works to help create economic growth in Lincoln. Ahrends, like many community-involved leaders, is active in the Lincoln/Logan County Chamber of Commerce. A member of the executive board, Marty is bullish on the future of Lincoln and Logan County. "We have a great human resource potential here. We need to try new things and take risks. With no risks we can't win big," Marty explained.
Although Ahrends is quick to volunteer to help wherever needed, she laughed about how she became co-chair of the Lincoln Art Fair associated with the balloon fest. "Rick Hamm and I went to a meeting and we both had several suggestions, and so they made us co-chairs of the event," she said.
Hamm agreed with Marty on how they came to work together on the art fair, but he had more high praise to place on his co-chair's efforts than just being drafted for the job. "I have never seen anyone more organized than Marty," he said. "She can have more balls in the air than anyone I know, and she never gets frustrated or flustered. She has a real calm spirit that makes everyone comfortable around her. Marty is so involved in the community and her family, her two kids. I don't know how she has managed that balance."
We are not sure either. But Marty Ahrends, devoted to family, church, school as well as her job, brings that calm, passionate balance to everything she does every day of the year. That's what makes her LDN's choice for this week's Personality of the Week.
[By MIKE FAK]