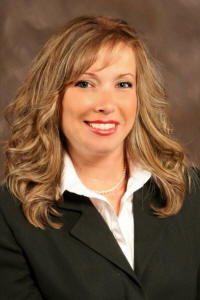 Bunner enters circuit clerk race

Send a link to a friend
[November 05, 2009] And now there are three. Rachel Bunner has declared her candidacy to fill the post of circuit clerk for Logan County.
This usually uncontested position, held for four-plus terms by Carla Bender, has garnered interest from three Republicans who work in the circuit clerk's office. Bender resigned to take a position with the 4th District Court of Appeals effective Sept. 30.
Previously, Suzann Maxheimer, who was appointed by the Logan County Board to fill the vacancy, and Mary Kelley, also a veteran of the circuit clerk's office, had announced their candidacy.
In a prepared statement, Bunner said:
I am pleased to announce my candidacy for the position of Logan County Circuit Clerk. I have lived in Logan County my entire life and am an active citizen in the community. I have a daughter who is a freshman at Southern Illinois University in Carbondale and a son who is a 7th grader at Chester-East Lincoln. We are members of Lincoln Christian Church. My education and experience as a Deputy in the office of the Circuit Clerk have prepared me for this opportunity.
I graduated from Lincoln Community High School and achieved my Bachelors degree in Leadership and Management from Lincoln Christian University. I was hired by Carla Bender in 1997 and have served Logan County as a Deputy in the Circuit Clerk's office for the past 12 years. Over those years, I have developed extensive experience in both the civil and criminal divisions within the office.
Prior to my employment in the Logan County Court system, I was a payroll administrator for a local manufacturing corporation that employed approximately 300 people. It was my responsibility to calculate, print and disperse payroll checks in accordance with the three different labor unions that functioned within the employee population. Besides my payroll experience, I also have a background that includes accounting/billing, medical/insurance, and customer service.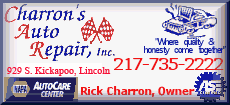 As a Deputy Circuit Court Clerk I have worked with all of our residing judges at both the Associate and Circuit levels. Carla Bender assigned me to the position of court deputy in two courtrooms and I currently support, assist and maintain the schedule for our non-residing judge, who handles juvenile matters, and the traffic and criminal calendar for the Associate Judge. I attend the court from day to day in both of those courtrooms and am responsible for the processing of cases from beginning to end, ensuring accuracy and efficiency. During my tenure I have been involved in working with all case types and functions of the office. I have the background and depth of experience to lead the office and continue the level of excellence that our office has developed under the leadership of the former Circuit Clerk.

There are two other candidates in this race for Circuit Clerk that work with me in the Circuit Clerk's office. When Carla Bender was appointed to the Appellate Court in September, a vacancy was created that all three of us are interested in filling. I look forward to the upcoming months of campaigning and meeting the voters.
I am particularly honored and grateful to have had Carla Bender's support, as well as the support of several County Board members, in the appointment process to fill the vacancy left by Carla's departure from County government. The Board decision was extremely close, separated by only one vote, and I appreciate the support of the Board and their comments about what a difficult decision it was to make.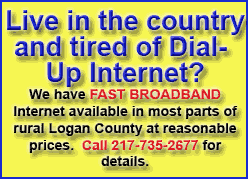 I consider myself very fortunate to have worked under the outstanding leadership of Carla Bender and with the many judges we have had in Logan County over the past 12 years. I have learned a great deal from all of them. I have immense respect for the former Circuit Clerk, as well as for the members of our judicial system, including those outside our county in the larger five-county Eleventh Judicial Circuit. I also greatly respect the contributions of my co-workers and all others who work in the court system.
It is my desire to continue to serve the citizens of Logan County as their Circuit Court Clerk. I pledge to serve with the utmost professionalism and integrity and preserve the judicial continuity of the court system for the good of the entire county of Logan. I ask for the support from the community and I look forward to the opportunity to meet every citizen so that I can provide them further information regarding my credentials and qualifications. I plan to work hard to earn their support, and their vote, for this important office.
[Text from file received from Rachel Bunner; LDN]